With guests focusing less on the type of accommodation they rent and more on the quality of their experience, your properties need to reach hotel standards of cleanliness.
And when cleaners struggle to meet your expectations, guests notice—resulting in complaints or, even worse, negative reviews that ultimately affect your booking rates.
So, clear, effective cleaning operations that consistently meet your and your guests' high standards are essential. But attempting to meet those standards presents challenges.
Last-minute booking changes and sudden maintenance issues create chaos when you're manually scheduling tasks, which can cause a missed clean. And even when turnovers get done in good time, how can you be sure your cleaners have completed them according to your specifications?
Without a solution in place, you'll be stuck in day-to-day operations instead of focusing on enhancing the guest experience and growing your business.
This is why the right vacation rental cleaning software is such a game-changer: It doesn't just address the issue of meeting guest expectations, but it also improves your efficiency, reduces your stress, and gives you the space you need to scale.
In this article, we outline five fantastic solutions, explain what you need to look for in a platform, and tell you what questions to ask before making a decision.

No more headaches, no more missed cleans.
Breezeway takes the stress out of vacation rental cleaning.
Request a free demo.
What to look for in a vacation rental cleaning software
To be confident in your decision-making process as you compare cleaning software, it helps to have a clear set of criteria. So when choosing a solution, look for these attributes:
Automated task scheduling: Manually managing cleaning tasks and schedules is error-prone and time-consuming; the right tools reduce your workload, make adapting to last-minute changes easy, and avoid mistakes like sending two cleaners to the same property.
PMS integration: Your cleaning software should automatically update itself with your latest booking information, which is why it needs to connect to your PMS.
Quality assurance: Ensure no towel goes unfolded with customizable cleaning checklists, which enable cleaners to upload photos of their work so you can inspect it remotely.
Solutions for owner stays: The ability to classify and flag owner stays allows you to keep your team in the loop and have a different turnover and inspection process for owner visits.
Inventory tracking: Inventory and linen management is a key part of your cleaning operations, so find a solution that helps you stay on top of your stock.
Team communication: Eliminate the need to go back and forth with cleaners on GroupMe or WhatsApp with automated task notifications and an integrated messaging solution with mobile app.
Usability: Look for a platform with a clean and straightforward interface so your cleaners can easily understand instructions and make the most out of the platform.
Integrated business solutions: Find a solution that goes the extra mile with features like guest messaging, owner reporting, and guestbooks.
With a solution that meets this criteria, and offers even more in the form of business solutions like extended stay optimization, customizable welcome books, and asset management, you'll have no costly gaps in your operations and can start taking on more properties without adding to your workload.
Pro tip: Calculate how much you can potentially save by using Breezeway with our ROI calculator.
What to ask the vacation rental cleaning software sales team
While we can offer you our expert recommendations, we recommend you do research yourself to find the tool that best fits the needs of your business. And before making a decision, be sure to reach out to ask the sales team key questions that can help clarify your decision, such as:
What other software does your tool integrate with?
What type of customer support do you provide?
How easy will it be for my staff to learn and use the tool?
Do you have a mobile app?
Do you have customizable checklists?
Can cleaners upload photos of their work?


5 best cleaning software for vacation rental managers
Less time doing schedule-Tetris, fewer missed cleans, and lower stress—sound good to you? These are just some of the ways cleaning software can simplify your business and your life.
See our five recommendations below, starting with our top pick and very own solution: Breezeway.
Breezeway: Customizable, comprehensive, and easy to use
For a solution that's intuitively simple for the whole team, streamlines your operations, and offers a range of additional features that help you scale your business, turn to Breezeway.
Designed to simplify turnovers while upholding the quality that your guests and homeowners expect, Breezeway's automated workflows and notifications mean you don't have to manually update schedules and follow up on task status.
But don't just take our word for it: One of our clients started saving 20 hours per month by using Breezeway to manage their cleaning operations.
Because you'll save so much time on cleaner scheduling and task tracking, you'll have the capacity to focus on giving guests a personalized experience and expanding your portfolio.
Here are some of the features you'll have access to with Breezeway:
Inventory

and supply tracking
A central management dashboard
Roles and permissions
Guest communication tools like messaging and welcome books
Integrations with +40 technology partners including leading Property Management Systems
Smart tech to maximize gap night revenue
GPS tracking to monitor the status of your team
Responsive customer support
Best of all: It's incredibly easy to use. Cleaners can download Breezeway's mobile app to complete checklists and track time while they're on the job, and even upload photos of completed tasks or create maintenance issues to keep everyone informed.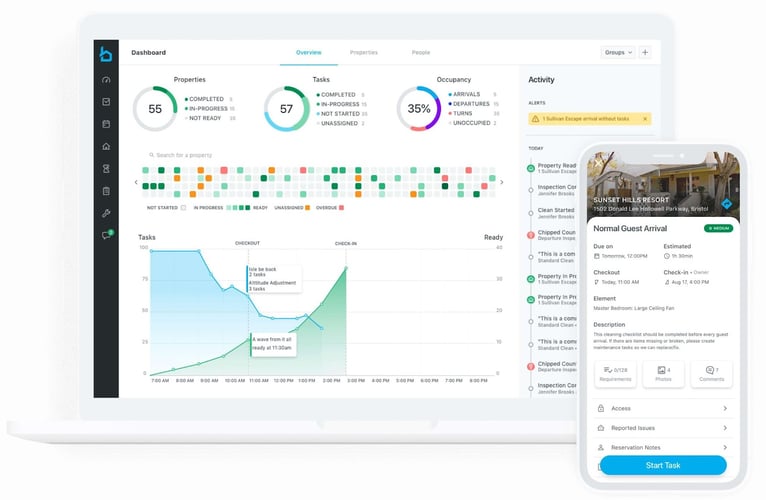 Breezeway's dashboard lets you keep an eye on your portfolio, while the mobile app helps your cleaners take track of tasks and send maintenance requests.

"Breezeway has allowed us to grow our business. In doing so, we are able to better track all things vacation rentals including property inspections, home watches, maintenance and service orders, and guest relationships."
Breezeway's standout features (and how they can help you)
Breezeway turns operational chaos into calm control with the following features:
Automated task scheduling to save you time and ensure you never miss a clean
Cleaning checklists for quality assurance
Task monitoring and a centralized dashboard to monitor property status
Owner stay solutions to ensure your owners get the experience they expect
Inventory tracking to efficiently manage your stock and linens
Real-time PMS synchronization so there's no need to manually update last-minute changes
Service partner and outsourced work compatibility if you don't work with an in-house team
Recurring tasks that help you stay on top of maintenance checks and deep-cleans
Maintenance requests to streamline managing last-minute emergencies
Task notifications so you're always in-the-know about team progress
Mobile app for you and your cleaners to use on the go


Pricing
We base our pricing on how many properties you operate, and specific pricing varies depending on the size of your portfolio. Reach out to our team to set up a demo and get a pricing estimate.
What our users say
"Our overall experience with Breezeway has been amazing. Breezeway has become an integral part of our operations and success this past year. We are thankful that we have Breezeway as a tool in our tool belt."
No more headaches, no more missed cleans.
Breezeway takes the stress out of vacation rental cleaning.
Request a free demo.
Operto Teams
Operto Teams automatically generates and optimizes cleaning schedules based on cleaner availability and location. The tool also gives you an overview of all scheduled and pending tasks in a convenient dashboard.
Its features help you cut down on the time you spend creating cleaning schedules and minimize the possibility of a missed clean or maintenance task tarnishing a guest's stay (and your review).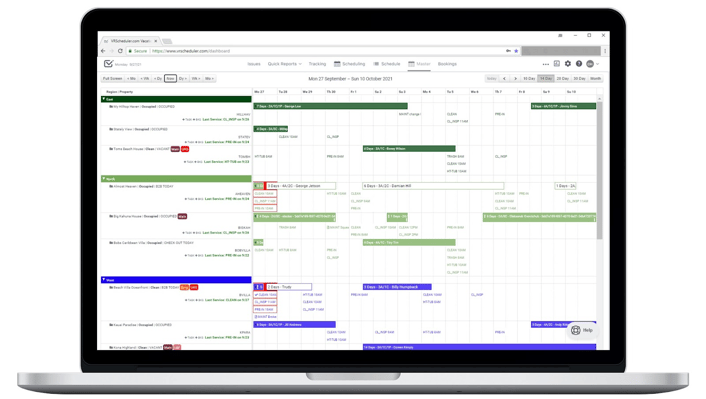 The Operto Teams Master Calendar gives you an overview of all your bookings and cleaning tasks in one place.
Key features and benefits of Operto Teams
Task automation based on custom rules
Issue tracking to ensure no maintenance tasks fall through the cracks
Route optimization for cleaner schedules
Master Calendar to organize tasks, employees, schedules, and workflows
PMS integrations to ensure your booking and turnover calendar is always up-to-date


Pricing
There is no pricing information listed on the Operto Teams website, so you have to reach out to the team for a quote.
What users say
"I like that once you have everything set up, everything is automatic! Such a time saver and keeps me organized. It's helpful to get reminders for things that otherwise would fall by the wayside. It has improved our customer experience in this way for sure."
Turno
Turno, formerly known as TurnoverBnB, helps you organize your cleaning schedules, manage inventory, and find cleaners for your vacation rentals. The tool's marketplace is made up of over 25,000 cleaners across the globe, making it easy to find staff to handle turnovers.
Task automation removes the time-consuming work of putting together cleaning schedules, and the tool automatically inputs bookings from Airbnb, Vrbo, Booking.com, and other OTAs so you don't have to manually update your calendar.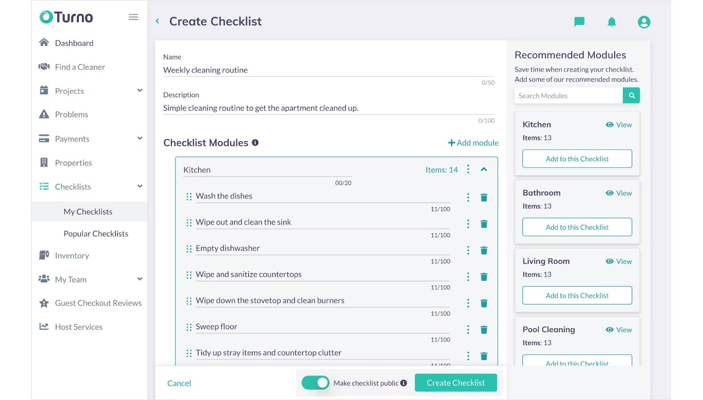 Turno lets you create custom cleaning checklists to ensure each cleaner meets your standard of quality.
Key features and benefits of Turno
International cleaner marketplace so you don't have to build out an internal cleaning crew
Auto scheduling to reduce your manual workload
Auto payments available in 26 currencies
Photo checklists to ensure quality cleans
Mobile app to stay on top of management and communication wherever you are


Pricing
With Turno, your first property is free. After that, there are two billing options:
Monthly ($8 per property per month)
Annually ($6 per property per month, and includes a property manager lead)


What users say
"Turno makes it extremely easy to schedule my cleanings. It has allowed me to automate this process, saving me a ton of time every month and making my AirBnB management much more passive."
ResortCleaning
With operational management tools like automatic scheduling and inventory tracking, ResortCleaning helps you stay on top of turnovers and provide a consistent guest experience. The tool integrates with a number of popular PMS solutions, meaning your booking and cleaning calendar will automatically update.
And both your management team and cleaners can track task status and stay in the loop with a convenient mobile app. Like Turno, ResortCleaning also offers a service provider network that can help match you with cleaning staff.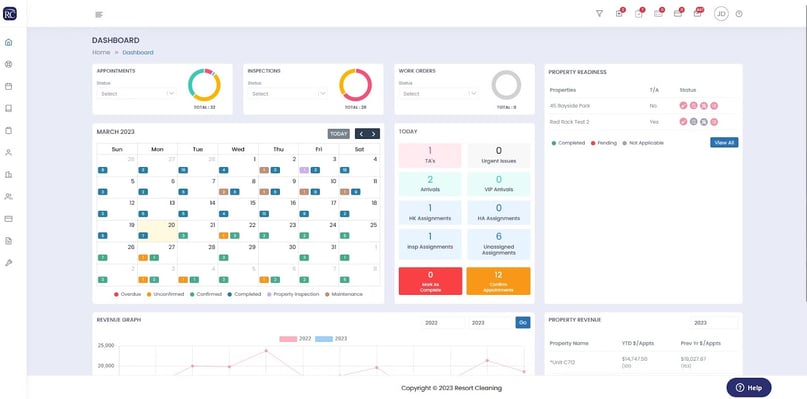 You can get an overview of property readiness and your cleaning calendar on the ResortCleaning dashboard.
Key features and benefits of ResortCleaning
Convenient scheduling features to ensure you never miss a clean
PMS integrations for automatic booking calendar updates
Mobile app for access on the go
Inventory management so you can keep track of stock
Service provider network and invoice management


Pricing
ResortCleaning offers three plan options:
Industry User: $5 per property per month (with a $50 per month minimum)
Inventory User: $7 per property per month (with a $80 per month minimum)
Enterprise User: Custom pricing (reach out for a quote)


What users say
"The time and the headache of communication with staff is a thing of the past. I used to spend hours assigning cleans and hoping things weren't overlooked. ResortCleaning has taken away so much anxiety and frustration and given me back hours of my life."
EZcare
Though the tool also services multi-family properties and corporate housing, EZcare helps vacation rental owners and managers automate their cleaning schedules and reduce their manual workloads.
EZcare comes with the essentials like automatic job scheduling, inventory management, and issue reporting. But it also comes with additional features that help round out your operations, like guest messaging, accounting, and compliance assurance.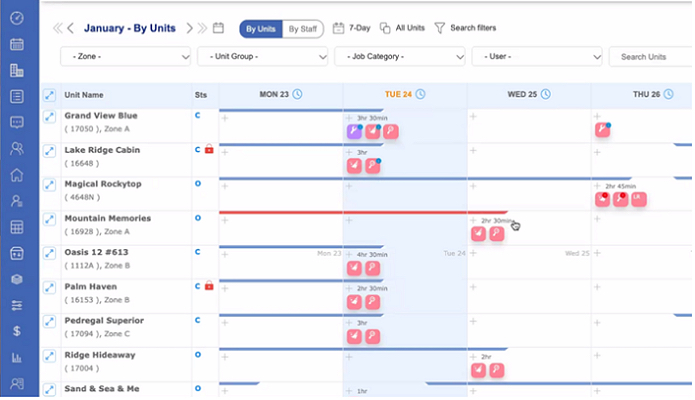 Keep track of your cleaning and maintenance tasks with EZcare's dynamic calendar.
Key features and benefits of EZCare
Task automation for one-time and recurring jobs
Real-time issue reporting via mobile app
In-app messaging for better communication with cleaning and maintenance staff
Location tracking so you can get an overview of where your team is
Inventory tracking with low-level alerts


Pricing
There's no pricing information listed on the EZcare website, so you have to reach out to the team for a quote.
What users say
"EZ has played an essential role in modernizing and streamlining our back office and field operations. The team at EZ is very pleasant to work with and is always eager to help find solutions for our needs."
Vacation rental cleaning software means less stress and happier guests
If you're still manually managing and scheduling your cleans and turnovers, know there's a better way.
Vacation rental property management doesn't have to be chaotic, because a tool with task automation will take hours of manual work off your plate—all while maintaining quality assurance and eliminating the risk of a missed clean.
"Breezeway has drastically saved us from missing cleans, equating to hundreds of dollars saved monthly. Before Breezeway, we had no clear way of scheduling tasks for cleaners."
-Kristi Campbell, Operations Manager at Vanwaw Corporate Rentals
Remember to look for the following criteria when picking a solution:
Automated task scheduling
Quality assurance
Solutions for owner stays
Inventory tracking
Team communication
User-friendly mobile app
Integrated business solutions
With the right tool, you'll get a better work-life balance, more visibility over your portfolio, happier guests, and better reviews.
No more headaches, no more missed cleans.
Breezeway takes the stress out of vacation rental cleaning.
Request a free demo.
Frequently asked questions about vacation rental cleaning software
How do I automate cleaning on Airbnb?
If you want to automate cleaning and turnovers for your short-term rental, the key is vacation rental cleaning software. Airbnb automation software automatically coordinates cleaning schedules, assigns tasks to cleaners, schedules recurring tasks, and tracks task status.
What is the best way to clean my vacation rental property?
The best way to clean your rental property is to create clearly structured, repeatable processes and use specialized tools to help you schedule and manage turnovers.

This way, you'll minimize the risk of missed cleans, eliminate the headaches of operational chaos, and ensure your high standards are always met.

When automated correctly, scheduling work to field teams has a powerful ripple effect throughout your business, saving hours of manual work and vastly reducing guest issues at check-in. More than that, though, scheduling automation helps hospitality providers showcase the professional care they take towards preparing and facilitating amazing guest stays.