Building the Right Systems for Growth
With a background in IT, Kristi Campbell knew the importance of solving problems with the proper systems in place. When she came on as operations manager, Kristi managed 10 properties using a basic PMS and manual scheduling. They had no cross reference for their calendar, and the tale of double bookings led to their initial implementation of Hostfully. They switched as their portfolio expanded, utilizing Hostfully's channel management tool and trigger-template features." Adding teams to Hostfully was really helpful," Kristi explains. With scheduling conflicts, I cleaned an 8-bedroom house on my own from a last-minute booking. I promised myself that would never happen again."
However, manual cleaning, quality control, and maintenance coordination were still causing complications. After researching different cleaning automation tools, Kristi chose Breezeway to standardize the process. Kristi created a new normal for her team. With automated tasks, they never missed a clean from a last-minute booking again. And with guest data syncing automatically into Breezeway, the right cleaner was assigned the right task at the right time.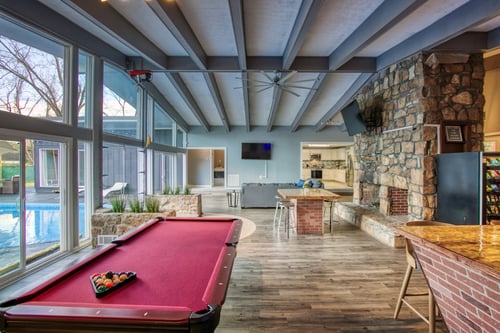 Even better, expense management became much easier. They no longer needed invoices from individual cleaning companies. Costs were calculated from the Breezeway platform for a clear breakdown and source of truth for all their expenses. With 25 properties in her portfolio now, Kristi feels confident in Vanwaw Corporate Rentals' continued growth.
"Breezeway has drastically saved us from missing cleans, equating to hundreds of dollars saved monthly. Before Breezeway, we had no clear way of scheduling tasks for cleaners. If there was an issue, you could schedule jobs, but there wasn't much fluidity to charge for jobs. We looked to Breezeway to build a process where we could schedule and reference our cleaning tasks. "

- Kristi Campbell, Operations Manager, Vanwaw Corporate Rentals

Increased Revenue and Guest Reviews
As an added bonus, the switch to Breezeway & Hostfully led Vanwaw Corporate Rentals to higher guest ratings and additional revenue. With new internal processes in place, the team could focus on guest satisfaction and deliver a consistent luxury experience for every stay. Guests gained real-time updates when a property was ready, making check-ins seamless and gap-night revenue more attainable. Kristi utilizes Breezeway's smart technology to maximize revenue opportunities in their calendar. With automated messages, she can offer discounts for extended stays without the hassle of managing one-off conversations. With these automated systems in place, they have yet to get a bad review this year.
Set up for Success
Vanwaw Corporate Rentals' expansion from 10 to 25 properties in one year is a testament to software solutions. The team is now structured for success, and their systems can be replicated for continued growth. With Breezeway, manual errors no longer slip through the cracks. Kristi and her team can focus on longer, more direct bookings and extend their luxury experiences across more properties in the US.
"If you're looking for a problem solver, get Breezeway and Hostfully as soon as possible. What they give us in terms of peace of mind, reliability, and performance is worth every penny. "- Kristi Campbell, Operations Manager, Vanwaw Corporate Rentals
Learn more about the Breezeway + Hostfully integration HERE.