No matter how clearly you explain arrival details when guests make their booking, they always seem to reach out asking how exactly to open the lockbox. Or even if you post the WiFi code smack-dab in the center of the fridge, you're bound to get a message asking for it.
These questions add up and can make your days chaotic and rushed, especially since guests expect you to be available whenever they need you—which leaves you with little time to efficiently manage your team or simply take a breather.
A comprehensive guidebook is a go-to resource for guests that answers their questions, gives them autonomy, and saves you time. But, while Airbnb's built-in guidebook is convenient and simple to create, it doesn't have the same functionality as other digital guides.
We explore three digital guidebooks that answer your guests' questions, earn you more five-star reviews, and keep your inbox clear.
Give guests a better stay and reduce your workload.
Use Breezeway's digital guidebooks to enhance your service and cut down on guest messaging.
Book a demo
Airbnb guidebooks: Simple and convenient
Airbnb guidebooks let you share local area information and tips to help your guests have a great stay. You can include recommendations for:
Places they should see, like local landmarks
Neighborhoods to explore during their stay
Nearby towns for taking day trips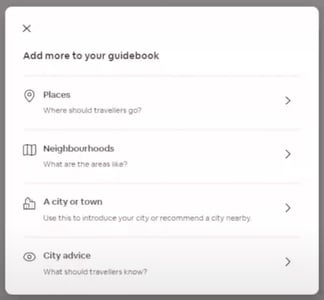 Creating a guidebook in Airbnb is fast and simple.
You can also write out specific city advice for your travelers using Airbnb's eight predetermined categories:
Local customs and culture
Ways to save money during their trip
What to book ahead of time
Useful phrases
Tips on traveling with kids


Add your recommendations within the platform in minutes.
Airbnb puts your insights and tips together to make a printable digital guidebook: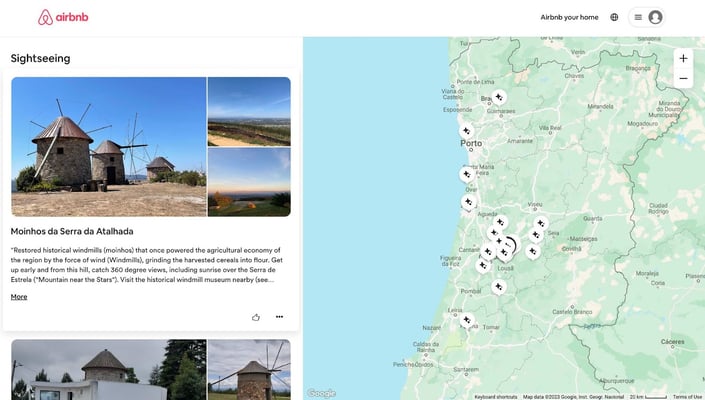 Airbnb guidebooks allow you to present your suggestions in a convenient map view.
Airbnb guidebooks help you support the guest experience with expert recommendations, but they aren't a complete solution: Here's why.
An Airbnb guidebook for each listing
You can use Airbnb to create multiple guidebooks and link those guides to their corresponding Airbnb listing. This is a simple way to provide information that's relevant to each guest, but it's also limited when compared to other solutions.
For example, with Breezeway you can create a guidebook for a neighborhood. Then, because Breezeway pulls in information about each booking from your PMS, it dynamically provides each guest with the relevant information, like property name, directions, and WiFi code.
And that's true even if some of that information is unique to individual stays, like a unique access code for a smart lock.
So, even if you have 20 properties in one area, you only need one guidebook.
The best digital guidebooks resolve all common guest questions
Because Airbnb guides can't automate unit-specific information, you'll still have to send guests updates throughout their stay, and they'll continue to message you when they don't know where to park or how to work the coffee maker.
On the other hand, the ideal guidebook solution preemptively provides that information and answers those questions so you never have to.
Airbnb guidebooks are Airbnb-branded
If you want your guidebook to be memorable and engage guests with your quality of service, you need an adaptable solution you can use no matter what channel your guest books through, be it Vrbo, Booking.com, or your direct booking site.
Having a guidebook you can share regardless of how your guest booked is crucial to a multi-channel distribution and direct booking strategy, and for your short-term rental branding.
And this is why the best solutions allow you to customize your guidebook with your company's brand rather than Airbnb's.
3 best Airbnb guidebook alternatives to minimize guest questions
Here are the three best Airbnb guidebook alternatives to cut down on guest questions and help you provide the best possible stay.
Breezeway Guide: User-friendly, dynamic, integrated
Breezeway's digital guidebook is a comprehensive solution that gives your guests all the information they need to make the most of their stay.
Shared via a secure link, guests simply click to view its arrival and departure details, house rules, and local recommendations. But the Breezeway Guide takes things a step further by fully integrating with Breezeway's operations and messaging software.
Guests can request maintenance service right in their guidebook by sending you a message as issues arise. So imagine a property's hot tub jets aren't working: The guest lets you know, and you immediately create a work order for your maintenance team within the same platform.
You can then track the status of the task in the same place, and, once the jets are fixed, message your guest to check everything's resolved and see if there's anything else they need.
This not only gives guests a more convenient stay, but cuts down on time-consuming guest and team messaging, and gives you a clear view across all your operations.
In fact, one of our clients was able to cut down on guest phone calls by 58% year over year by using welcome guides in tandem with our Airbnb cleaning software and messaging solutions.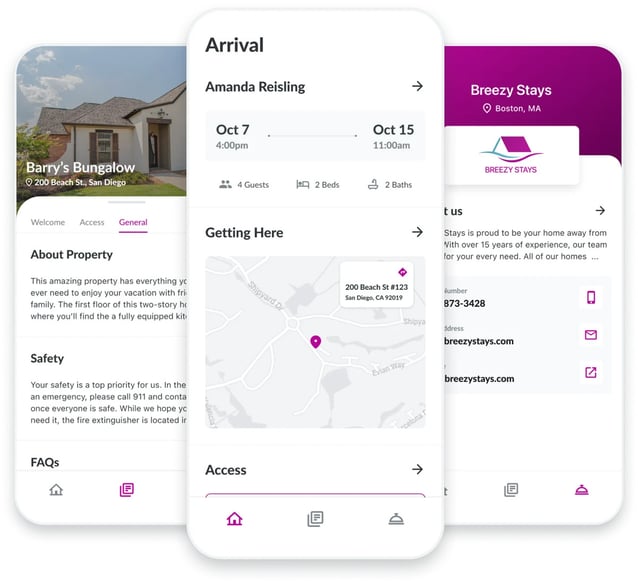 Breezeway Welcome Books let you share key information with guests to help them prepare for check-in, like safety information and arrival details.
Standout guidebook features
Dynamic welcome book with property-specific information you can update and modify throughout a guest's stay
Automatically syncs with booking details so your guests always have relevant information for their individual stay
Fully integrated with Breezeway's

Airbnb automation software

and messaging tools to save you time and give you one centralized place to handle operations and communication tasks
In-guide service requests and messaging available to guests to make managing maintenance tasks easier
Connects to other features like

automated task scheduling

and

quality assurance checklists

to ensure your guests always show up at a spotless property
Built-in

extended stay tool

to increase gap night revenue
Mobile-first format (no download necessary) making it more accessible to guests


What our customers say
"The Breezeway Guide does a fantastic job at delivering the guest info in a way that is easy for the guest to use… When the guest can answer their own question, it's one less call for our support team"
-Shawntel Dairsow, Client Resolutions Manager at Travel Advantage Network
Give guests a better stay and reduce your workload.
Use Breezeway's digital guidebooks to enhance your service and cut down on guest messaging.
Book a demo
RueBaRue
RueBaRue's digital guestbook allows you to create home guides that give guests crucial information about appliances and amenities, and area guides to share your recommendations on what to do and see.
RueBaRue integrates with Google Places, so information about the locations you recommended will be automatically updated. And the platform also offers a smart lock integration, so, as with Breezeway's property access solutions, you can automatically generate unique door codes and share them with your guests via the guide.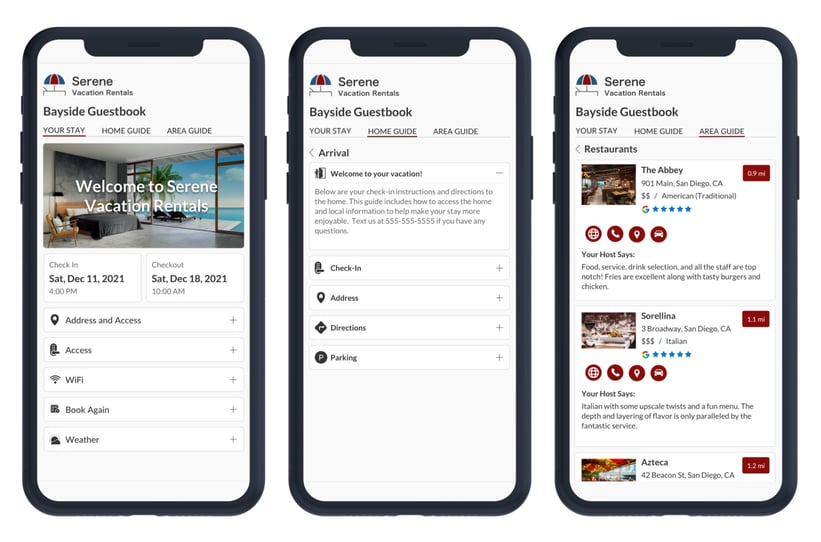 Guests get specific information about their stay, as well as home and area guides, with RueBaRue digital guestbooks.
Key features
Home guides with photo/video capabilities
Area guides with Google Place integration
Mobile and desktop compatible and shared via unique link or QR code
Integrations with other vacation rental software
Connects to smart locks for automated door codes


What users say
"RueBaRue has tremendously cut down on the questions that many guests have about the home and amenities, local attractions and places to eat…Everything is right there in the property/destination guides."
- Andy F.
Hostfully
As with Breezeway, Hostfully's digital guidebooks can be shared via a unique link and are compatible on any device. Plus, Guidebook Quick Start Wizard, Hostfully's guidebook creation guide, gives you helpful templates so you can get yours up and running in minutes.
You can add images and videos to your house manual to explain how to turn on the hot tub or where to find extra linens, as well as display all your restaurant recommendations on the guidebook's local area map.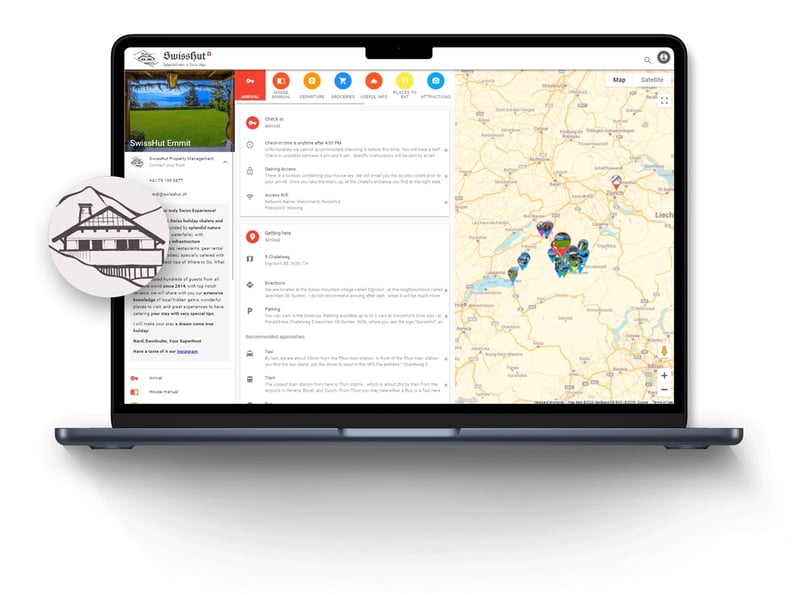 Share all the information your guests need, from check-in instructions to local recommendations, with a Hostfully digital guidebook.
Key features
Customizable, branded guidebooks with all the information your guests need
Image and video capabilities, as well as Google Maps embeds
Upsell category to bring in more revenue per stay
Partnership with Viator for commission opportunities
Available in over 16 languages


Available in over 16 languages


Available in over 16 languages
What users say
"The guidebook provides my guests with access to loads of useful info before and during their stay. I have fewer guest questions to answer as a result."
- Paula B.
Digital guidebooks give guests a better stay while taking work off your plate
Without a dedicated solution in place, guest messages and calls can quickly end up dominating your day, taking you away from what you'd intended to get done, and ultimately preventing you from improving and growing your business.
By sharing key information in an accessible, user-friendly format, digital guides give your guests the autonomy they want. Instead of receiving a flurry of calls and messages every Saturday afternoon and throughout the week, you can calmly focus on managing your operations and delivering exceptional service.
When choosing a solution, look for the following features and characteristics:
Property-specific information for each guidebook
Easily shared with guests from any booking channel
Seamless integration with your cleaning and maintenance operations
Not only will you be less stressed, but your guests will thank you. Because, when you're proactive about explaining arrival and in-stay details, providing check-out instructions, and sharing your favorite local coffee shops, all your guests have to do is sit back, relax, and enjoy their stay.
That means more positive reviews, higher rankings on Airbnb, and less hands-on communication with guests.
Give guests a better stay and reduce your workload.
Use Breezeway's digital guidebooks to enhance your service and cut down on guest messaging.
Book a Demo
Frequently asked questions about the best Airbnb guidebook
What should be in an Airbnb guidebook?
The key information you should include in an Airbnb guidebook is:
Arrival and departure information, including directions, parking, property access, and check-in and check-out policy
House rules and details about quiet hours, WiFi codes, and amenities
Instructions on how to work electronic appliances and devices
Local area recommendations


How do you make an Airbnb guidebook?
You can make an Airbnb guidebook right through your Airbnb account, but a better alternative is to use a specialized tool to make your guidebook unique and customized. For example, you can use Breezeway to create detailed digital guidebooks for all your units, whether they're listed on Airbnb or not.
What should be the first page of an Airbnb guidebook?
When creating an Airbnb guidebook or welcome guide for your guests, you should display the most important arrival information on the first page, as well as information that preempts their questions. That includes directions for arrival and parking, property access instructions, and the WiFi code.

When automated correctly, scheduling work to field teams has a powerful ripple effect throughout your business, saving hours of manual work and vastly reducing guest issues at check-in. More than that, though, scheduling automation helps hospitality providers showcase the professional care they take towards preparing and facilitating amazing guest stays.