2020 was a difficult year. In an effort to focus on the good and celebrate things in our control, we reflected on various initiatives and recapped 6 silver linings from Breezeway in 2020.
1. Our Clients' Dedication to Quality and Safety
As we wrap up and reflect on the year, we are so proud of how the industry has come together. Through so many ups and downs, professional managers continue to deliver on their commitment to provide high-quality guest experiences and proudly represent the industry. In fact, our clients completed more than 2M property care tasks and communicated with more than 11K guests through our operations and services products.
2. Supporting the Community Through Content
We focused on creating resource-oriented content to help vacation rental companies best navigate the travel pandemic. This meant authoring property care checklists, guest and owner communication guides, eBooks, case studies, videos, reports, and more.
Of these initiatives, we're most proud of our 2020 Property Operations Report. We gathered hundreds of responses from professional managers on guest expectations, cleanliness, safety, communication, quality assurance and technology, and produced the first-industry wide report on property care and operations. We're proud to have identified trends in short-term rental property preparation and how the industry reaction to COVID-19, and to have shared these findings with the community.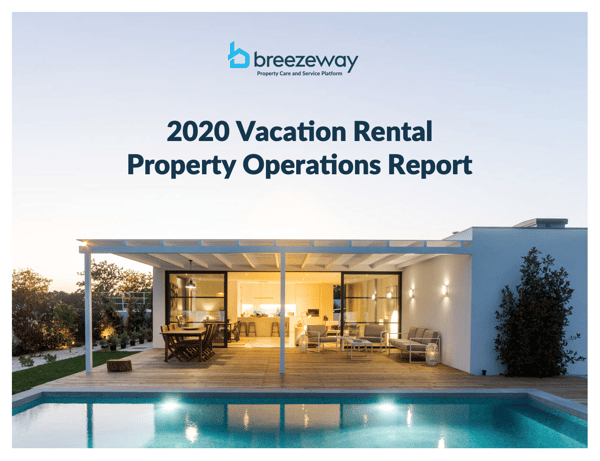 3. Client Achievement in Multiple Awards
We sponsored the Destinationare Awards in August to help recognize exceptional leaders in the hospitality field. One of our clients, Robin Craigen from Moving Mountains, was recognized for leadership, compelling storytelling through branding, delivering great guest experiences, and instilling trust and confidence by putting safety at the forefront of operations.
We also sponsored AltoVita's 2020 Corporate Home Awards, where another Breezeway customer, Olala Homes, was recognized. Olala took home the 'Best Innovative Use of Technology' award for successfully introducing a digital solution within property management to enhance the guest experience.
Congrats to the entire teams at Moving Mountains and Olala Homes!
4. Prioritizing Vacation Rental Safety
The events of 2020 have made it clear that property and guest safety are fundamental to delivering five-star guest experiences. There's a palpable emphasis on quality, and the meaning of 'vacation rental safety' has expanded to include the hygiene and overall well-being of guests.
In additional to our self-guided safety inspections, we launched a robust Short-Term Rental Safety Inspector Program. Developed by our Director of Safety, Justin Ford, the comprehensive course includes 40 sections ranging from deck safety to hot water tank temperature, with directional images and videos. Getting certified will help ensure your company maintains safe and high-quality rental properties, prevents accidents, reduces liability, and maximizes each guest's experience. Certification also empowers property managers to expand their offerings by completing safety certifications at other properties and bolstering owner acquisition programs.
5. Breezeway Team Continues to Grow
We were lucky to expand our Breezeway family in 2020, welcoming new team members across client experience, sales, marketing, product, engineering, and more. These new additions will help us continue to deliver even more value to our clients -- you can check out our new friendly faces here.
6. Doubling Down on Advanced Messaging Functionality
We believe effective guest communication will be a core focus in 2021, so we strengthened our messaging product. Managers can now create and assign maintenance jobs directly from incoming messages, and keep guests updated on the status of repairs through automation.
We also launched 'Gap Night' Messaging, enabling managers to offer departing and arriving guests the ability to extend their stay and fill gaps between reservations. This creates more value for homeowners, drives additional revenue for your management business, and leads to happier guests!
Cheers to 2021!
While the uncertainty of 2020 isn't behind us as the calendar flips to January, we wanted to extend a heartfelt thank you to our industry peers and client community for helping make this year the best it could be.
We can't wait for a brighter 2021 and the amazing things that lie ahead!