Earlier this month Breezeway's Jeremy Gall joined Tomer Rosenblum of Guesty, Marvin Speh of RoomPriceGenie, and Juan Carlos Jaramillo of Elite Virtual Brokerage to discuss the best ways to take advantage of the seasonality of the short term rental industry, and how to use low season to build the ultimate tech stack for your business.
The webinar covered current travel changes brought on by COVID-19 like changing client expectations and the push for more personalized service. The virtual meet-up also covered tightening booking windows (14% of reservations were made on the same day as check-in, and 38% of reservations were made within the week of check-in), the increase in reservation changes (flexible stay lengths), and ways to operate your business with decentralized teams.
Jeremy weighed in on the value of implementing smart technology and automation, offering four areas for automation and smart tech, and operational focal points for 2021. Utilizing technology should enable you to provide more service, increase revenue, and deliver on your brand promise.
Here are four ways that property managers utilize technology:
Dynamically schedule tasks: Provides flexibility to accommodate changing reservations, and quick booking windows.
Customized property care checklists: Allows you to incorporate key feedback from each owner on how they want their property prepared, in addition to your brand standards.
Proactive guest messaging: Empower yourself to engage with guests throughout the entire stay to deliver on your brand promise.
Detailed owner reports: The best way to get credit for the work you're doing, and ensure owners perceive and understand the work that's being done in order to maintain their asset.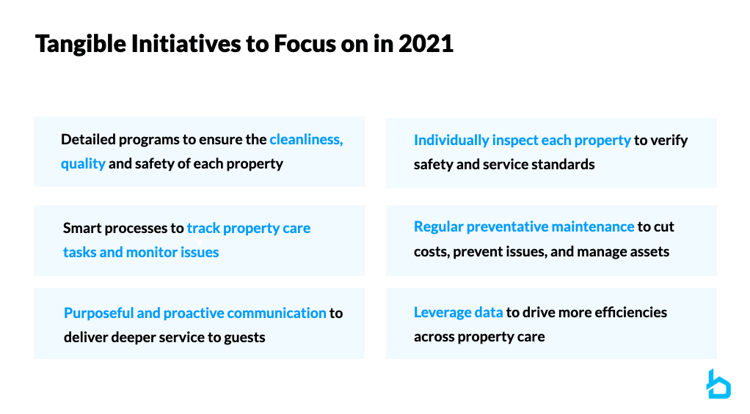 In the second part of the webinar Jeremy, Marvin and Juan Carlos joined Tomer for a panel segment which is summarized below:
What do you predict will be the primary motivators for travel after COVID-19? How can managers adapt to this emerging traveler persona?
People need to travel again, we have already seen this trend in 2020 with vacation rentals making a faster comeback than any other travel sector. The most important aspect of travel in our current climate is the ability to make guests feel safe doing so. Managers need to promote their ability to provide a safe, high quality, hospitality level experience.
Can you share some of the key findings from Breezeway's 2020 Property Operations Survey?
In 2020 we surveyed over 200 professional vacation rental managers, in 17 countries with 69% operating in the US. The main findings related to guest expectations and behaviors, cleanliness and sanitation, safety and communication, quality assurance and preventative maintenance, as well as technology and tools. The most important findings were surrounding the guest response to quality and cleanliness. 97% of respondents felt that guests' feelings about cleanliness and safety have increased since COVID-19, and 66% think cleanliness and safety will be the most important booking factors beating out price, location, and amenities.
How do you think the return of travel will impact pricing?
Today's travelers are willing to pay more for safety, security and quality. However, it will be key to market the measures you are taking to ensure the best guest experience possible. Hotels and other travel sectors are stepping up their game in terms of cleanliness and safety, but the way this is communicated to their audience will make all the difference in where guests ultimately decide to book.

For more information on automation and the importance of using smart tech, visit our benefits page.