I think we can speak for the entire vacation rental industry when we say it was great to be back at an industry-wide event for VRMA '21. Being in-person and in San Antonio, Texas, of course we had to do it big! The conference was a milestone for Breezeway, being that we had three times the booth space (cornhole included 😎), brought twice the number of team members, and participated in more panel sessions, roundtables, and presentations than ever.
The Breezeway team arrived eager and ready to absorb knowledge from the true heroes of the sector: vacation rental managers and operators. From chatting with housekeeping staff, operations directors, owners, and guest service employees at the booth, to listening in on countless sessions, it was an incredible four days.
For those who weren't able to join in person (or maybe missed one of the concurrent sessions) we put together a three-day recap filled with takeaways across the sessions and keynotes.
DAY ONE
Opening Session
Day one started off with a bang with a keynote speech from Michael Hoffman, President of Igniting Performance. The theme of the session was "OWN IT", and that's what we were all encouraged to do. Whether it's the culture we create, or how we continue to build momentum in the vacation rental space, it's all about how we're able to adapt, shift, and re-master processes to find success. Much of which operators had to do in order survive and thrive the last 18 months.
Following the opening session, we headed into the PointCentral-moderated session: "The Post Pandemic Operations Tool Box". Mike Harrington (CEO & Owner of Carolina Retreats), Laik LePera (Director of Operations at Village Realty), Brandon Ezra (CEO of Grand Welcome), Nate Wysk (Moderator, Director of Business Operations at PointCentral), and our very own Peter Andruszkiewicz (Head of Business Development, Breezeway) all weighed in on the challenges that 2020 brought to the industry, traveler trends, and the ways operators have been able to adapt to this new industry standard.
So, how did operators get through the challenges of 2020? Each panelist had the opportunity to weigh in. Mike cited their no contact check-in process as a lifesaver when it came to making guests feel comfortable booking a stay with them, "Operationally, not much changed for us because we were prepared. It took something like the pandemic to make us fully appreciate the processes we already had in place". Laik echoed this sentiment about keyless entry, as this was something Village Realty had been rolling out pre-pandemic. They were able to put this at the forefront of their marketing, and also helped their behind-the-scenes business operations. Brandon shared that Grand Welcome has always been a very tech-enabled operation, but nothing could have prepared them for the staffing shortages when it came to housekeepers, inspectors and maintenance staff.
Continuing with the tech trend, we were also able to attend the panel: "How Contactless Technology Helped in Post-COVID Times" with Brandy Canaley (VP of Business Operations at Sextant Stays), Dennis Goedheid (CEO of Casiola Vacation Homes), Dipen Gala (CEO of Lynx), Jeffrey Paglialonga (CEO of Teeming Vacation Rentals), Mickey Kropf (CEO of Vector Travel), and Robin Craigen (CEO/Owner of Moving Mountains).This panel focused on how each operator has leveraged technology to create a contactless experience but also maintain the human-touch throughout the stay.
Breezeway's Jeremy Gall presented two educational sessions on Day 1. The first, "The Three P's of Brand Standards: People, Process and Promise" highlighted the increased importance of service standards, and how to align teams to execute quality, on-brand work. Jeremy reviewed each component (people, process and promise) and the impact each has on elevating and showcasing your hospitality brand. How do you hire (and train) your team to execute on internal processes? How do you empower your staff to do their part in delivering your brand promise to owners and guests? Attendees walked away with the knowledge to not only identify brand standards, but to make sure they are executed across each department.
Jeremy's second session, "Analyzing Property Data: What's Changed (and Hasn't) in the Last 18 Months" reviewed internal data from our 2020 & 2021 property operations reports, and data from over 7 million property care tasks completed on Breezeway's platform. Shifting traveler priorities like increased sensitivity to cleanliness were discussed, along with the implications that operators can expect from these trends (e.g. 66% of operators believe contactless check-in will continue to be the norm).
Koryn Okey (VP of Client Success at Breezeway) and Sue Jones (Owner at HR4VR) co-moderated "All Things Operations", a standing-room only session with panelists Leslie Adcock (Director of Operational Excellence at Cabins for You),Eddie Gray (Head of Housekeeping at Newman Dailey Resort Properties), and Kim Hermon (General Manager at Big Bear Vacations). Focusing on three primary categories, this interactive session allowed each of the panelists to share their expertise.
Hermon and Gray discussed the benefits of enlisting an hourly employee to help address any callback issues that arise on busy turn days instead of bringing back the original housekeeper, or leaning on the inspectors to ensure the property is guest ready. Guests are getting smarter and understand now, more than ever, what to say to position themselves for a refund on their stay so the importance of documenting property readiness prior to arrival is at an all time high. Adcock shared that Cabins For You includes language in their rental agreement which requires guests to allow their staff the opportunity to correct an issue if one is identified during the stay. Failure to do so forfeits the guest's right to a refund. All panelists agreed that communicating the impact and value the operations team brings to your business is imperative, and continuous coaching is effective in elevating operations. In fact, each company has a weekly meetings with their team where they cover wins and discuss where there is room for improvement going into the next weekend.
The VRMA Advocacy Fund event capped off an exciting first full day of the conference. It was great to see the number of vendors, managers and members of the community supporting the cause.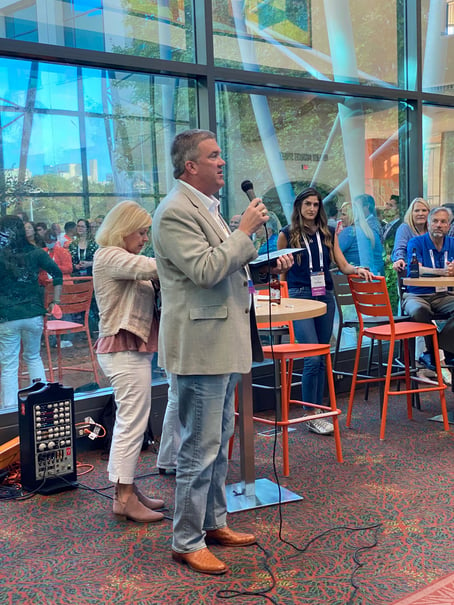 DAY TWO
VRMA Battleground
Day two began with the VRMA Battleground where we heard from some of the latest start-up innovators in the vacation rental space: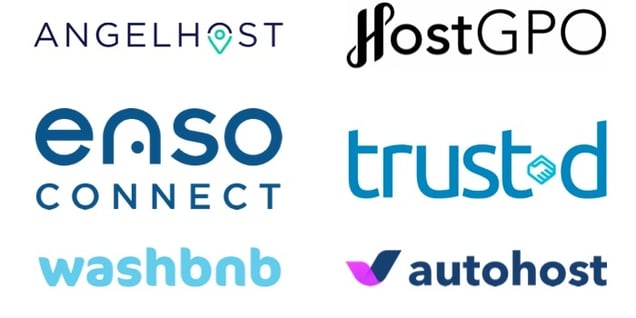 Following the great energy from Battleground, we headed into "Preventing and Responding to Negative Reviews", a session run by Ashley Kubiszyn (CEO at River Ridge Rentals) and Jennifer Frankenstein-Harris (Business Operations, Village Realty Holdings). As you may have guessed, Ashley and Jennifer outlined best practices for responding to negative reviews, and disappointed guests. Ashley outlined the:
L(isten)E(mpathize) S(tate the facts) S(olve the problem) framework,
and offered further tips like communicating with guests in writing, and ensuring you work with the person who booked the property to avoid any miscommunication or message-passing from guest to guest.
Day two of the conference was another busy one for the Breezeway team. Our Head of Safety and Certifications, Justin Ford, presented a compelling session "OSHA Regulations you Must Know". This session outlined the impact OSHA has on your business, and necessary updates every business should take to ensure they remain OSHA compliant.
The closing session took place late Tuesday afternoon. Vendors, attendees, and VRMA board members gathered to listen to Matt Landau (Founder of VRMB) summarize the event and share wisdom about the industry. Professionalization is a recurring theme in today's industry, however it's important not to lose the quirky, experiential value that vacation rental properties bring to the table.
DAY THREE
The conference wrapped up on a strong note with a morning of final sessions. Chris Trusz (Manager of Property Maintenance at Brindley Beach Vacations), Melaney Marshall Robbins (President at Oak Island Accommodations), Ryan Swaim (CEO of Dunes Realty), Shelia McCracken (Business Operations of Taylor-Made Deep Creek Vacations & Sales) participated in a panel on "Time Saving Principles", offering insights on how to keep operations running smoothly, even during hectic busy seasons. Chris offered several suggestions for organizing your maintenance team, like identifying members of the team as designated runners to grab necessary supplies for repairs, while allowing other maintenance staff to stay in the field and complete other jobs in the interim.
Andrew McConnell (CEO at Rented) weighed in on the "Future of Guest Loyalty". He spoke about strategies to turn initial bookings into repeat guests by improving listings on third party sites (five-star reviews, cancelation policies, photos, amenities, responsiveness, etc) and branding opportunities to drive repeat bookings (email capture through in-home technology devices, implementing property hashtags to facilitate branded social sharing, gifts, etc). Give your guests good reason to come back to stay with you, and they will!
Simon Lehmann (Founder/CEO of AJL Atelier) moderated a Fireside chat with Jennifer Hsieh (VP, Homes & Villas by Marriott) and Hari Nair (VP of Business Strategy at Expedia Group) where they discussed trends, challenges, and their perspectives on the industry. Hari Nair believes that hotels will need to learn how they can create unique experiences (as vacation rentals are able to), and that hotels have started to do this through the launch of soft brands. In this session both Homes and Villas by Marriott and Expedia Group came to the conclusion that the future of vacation rentals and hospitality will be dependent on API connectivity.
The Breezeway team is feeling thankful to have been able to spend an amazing four days reconnecting with members of the community that we're so proud to be a part of. Who's ready for VRMA 2022?!
Interested in seeing us at a future event? Check out our events page HERE.