After five unforgettable years at Airbnb, I'm thrilled to announce my new position as Head of Business Development at Breezeway. I wanted to take this opportunity to reflect upon my experience at Airbnb, and share why I'm joining Breezeway to help change how people care for and interact with property.
When I joined Airbnb back in 2015, the marketplace was dominated by shared inventory in urban destinations. Consumer awareness for the company grew, mainstream travelers started looking for single-home inventory in traditional vacation rental destinations. This trend led the company to hire me to help acquire inventory in New England. I traveled all over the east coast, and learned first-hand that bringing inventory onto the Airbnb platform relied on connectivity of PMS systems that vacation rental managers relied on.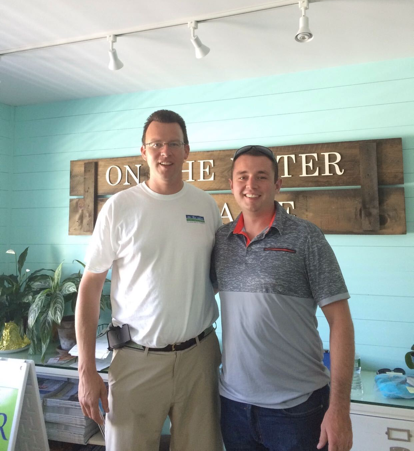 Justin Ford (left) with Peter Andruszkiewicz (right) in 2015
Building out supply partnerships via the API is where I focused my efforts for the last three years. It started with securing resources and building the foundation internally, and then the team began to rapidly onboard new partnerships. I learned so much along the way, and by the end of my time at Airbnb, we were measuring API inventory in the millions of units and transaction value in the billions of dollars.
Despite the success, I couldn't help thinking about finding something new. I've always been entrepreneurial, work well on small teams, and enjoy seeing the direct impact of my work. I first met Jeremy Gall, Breezeway's Founder and CEO (who previously founded FlipKey), at the VRMA New England conference in 2017. It was clear to me after chatting with Jeremy just how passionate he was about the vacation rental industry, and building products that bring customers value. His knowledge and excitement about back-end property care and operations was impressive, and I had a hunch that he was on to something great.
As Jeremy and I continued to catch-up at industry conferences each year, I watched from the sidelines as the Breezeway team built an incredibly valuable tool to ensure high quality property operations and care. Considering the current travel climate, it's evident that elevating operational standards is more important than ever before.
In my new role at Breezeway I'll be focusing on improving software partner relations, developing new partnerships in other business verticals, and scaling Breezeway's new Safety Inspection Program. I'm incredibly excited to be part of the Breezeway community, and am invigorated by the team's focus on building software and tools to power the future of real estate preparation and service.