As the season changes and travelers look for new ways to get outside amid quarantine guidelines and social distancing norms, we connected with Key Data to learn more about travel trends this fall, and how summer habits are impacting bookings for the remainder of 2020.
COVID-19 has altered the 'vacation rental guest persona'. Does you data reflect changes in the way people travel?
At Key Data, we've noticed two big indicators of changes in renters' preferences. First, the year has been more profitable for single-family homes than for condos. In the Southeast and Rocky Mountain regions, the average RevPAR for condos has been 11% lower than last year, while the average RevPAR for houses is down 4% and 5% respectively. The difference is even more pronounced in the Southwest of the country. Booking activity also recovered faster for houses than it did for condos, as travelers seem to really value the isolation of a single-family house over higher-occupancy buildings.
Second, urban markets have continued to struggle, even as leisure destinations have recovered. This difference is apparent even for markets within the same state. For example, RevPAR for the year to date is down more than 60% in Nashville, but only down a few points in Gatlinburg and Pigeon Forge. Similarly, annual RevPAR declined for Los Angeles units, but increased for Lake Tahoe units.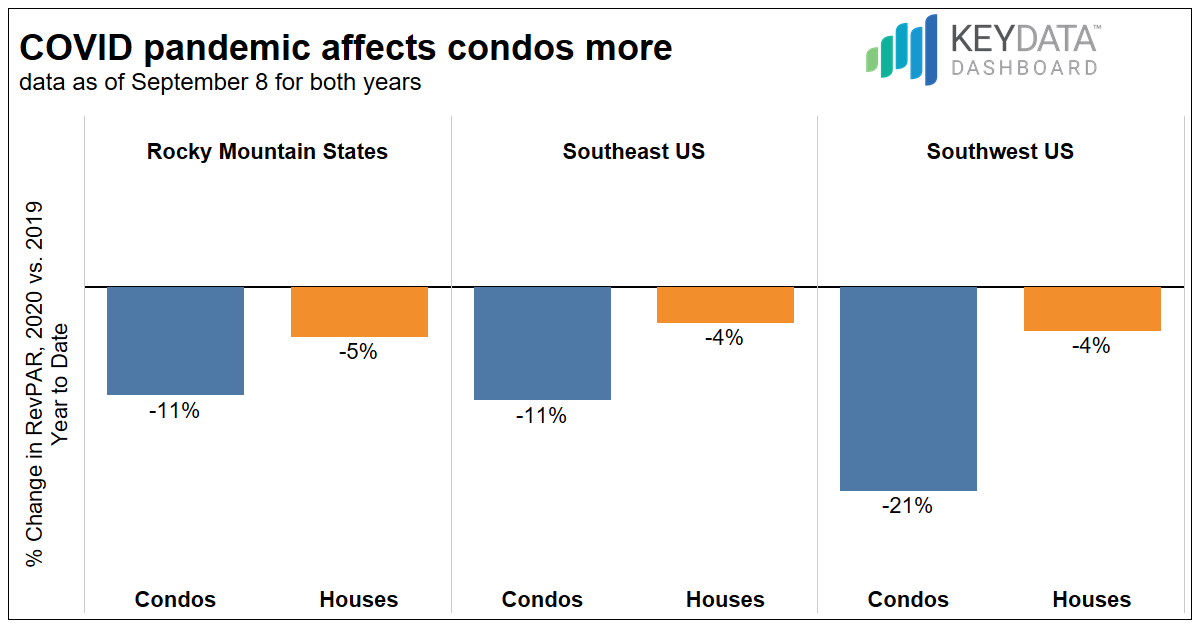 Which geographies are seeing the biggest spike in booking activity? Which are seeing the biggest dips?
Overall, it's been a strong booking season for most regions. Mountain markets such as the Tennessee Smokies, Northwest Colorado, Jackson Hole, and Lake Tahoe are receiving more bookings than compared to this time last year. Beach markets such as North Carolina's Outer Banks and South Padre Island in Texas are also seeing an extended booking season. Myrtle Beach is finally bouncing back, and Orlando is beginning to as well. There are exceptions, of course. Booking activity for Hawaii is still only a small fraction of what it was last year. Large cities like Seattle and Washington, D.C. also remain less popular. On the whole, the trends we've seen during COVID -- a move away from cities and towards less crowded areas -- continue to hold and are reflected in booking activity.
Did COVID-19 impact the vacation rental summer season?
Absolutely. Occupancy rates in the U.S. were similar to those last year and rates were slightly higher. Owner stays and hold nights increased in some markets. While there are some common themes, every destination has been affected differently. The Southeast, on average, was fairly close to last summer. The variations between southeast destinations were huge, for aforementioned reasons. Some destinations such as South Walton, FL and The Outer Banks had a better summer than last year, but others, like Orlando and Myrtle Beach, had lower paid occupancy rates. The Western U.S. states had a slightly slower summer than in 2019, as did the Mid-Atlantic states. Unfortunately, Hawaii completely missed their summer season.
Check out Part 2 of Breezeway's collaborative article with Key Data, A look into Fall 2020 Vacation Rental Trends: Part 2.