Whether it's traveling to see loved ones, taking some well deserved personal time, or any other reason we desire to get away, the holidays tend to be one of the busiest times for travelers and tourism, and despite pandemic travel protocols, this year is no exception. Breezeway and Guesty teamed up to explore traveler data and offer insights into what managers and professional operators can anticipate and prepare for 2022 travel.
Reservation volume
With Christmas being one of the most popular holidays celebrated across the globe, it is no surprise that travelers are packing their bags and taking advantage of time off to see friends and family around the holiday. With more comfort around traveling than pandemic years prior, Guesty cites that this Christmas will be the most expensive holiday weekend of 2021 for travelers, with reservation volume across the US up 469% compared to 2020 and 157% compared to 2019. With numbers just as startling and high, the UK and Australia are also reporting reservation volume increasing by 433% and 79% compared to 2020 respectively. With many people looking to enjoy the New Year's holiday only a few days later, New Year's Eve reservation volume across the US is up 94% compared to 2020 and 29% compared to pre-Covid 2019. The UK is expected to see an even more drastic increase in reservation volume, up 240% compared to the prior year.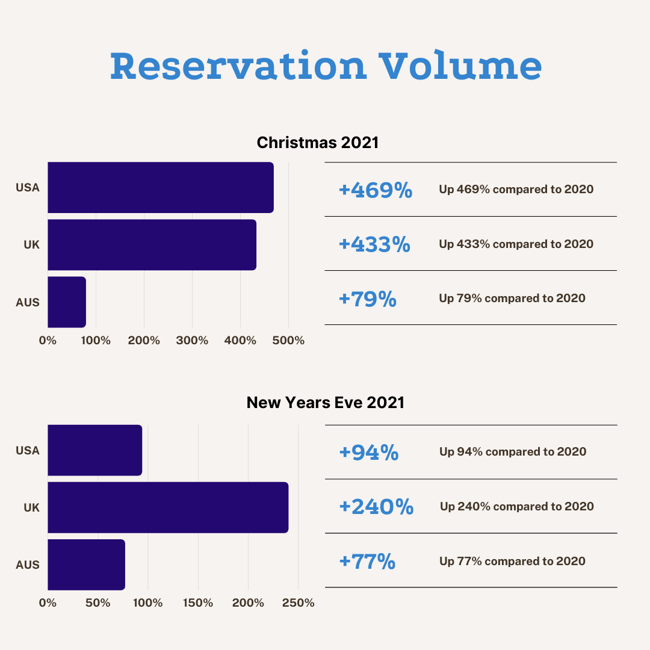 With reservation volume in 2021 doubling from pre-covid 2019, professional operators are preparing for some of their busiest seasons yet. To align with guest expectations for - the most wonderful time of the year - professional managers should make sure their teams and operations are prepared to deliver the perfect guest experience. By integrating communication and task management tools, operators can offer mid stay services that can further increase their profit during this busy time, task their teams with service requests or cleaning inspections in real time to reduce turn over periods, or send messages to incoming guests with local area attractions and events to add to their stay. An influx in reservations is a wonderful opportunity to stay current with your guests and deliver on your brand promise.
Average nightly rate
Following the progressive trend of increased nightly rates, Christmas and New Years are no exception to higher booking margins. In the United States the average nightly rate for Christmas 2021 is $486/night, up 36% compared to $357/night in 2020 and up 56% compared to $312/night in 2019. New Year's Eve data shows nightly rates that continued to increase month over month but still at $264/night, a 25% increase from 2020 prices ($212/night ANR) and a 21% increase from 2019's ANR of $218/night. Australia reports a similar spike, with a 23% YOY increase in nightly rates for Christmas and 27% increase for New Years. The UK stands as an outlier with the average nightly rate for Christmas being £218/night, 69% higher compared to £129/night in 2020 and 29% higher than £168/night in 2019, and for the New Year holiday, £172/night, 207% higher than 2020 and 94% higher than 2019.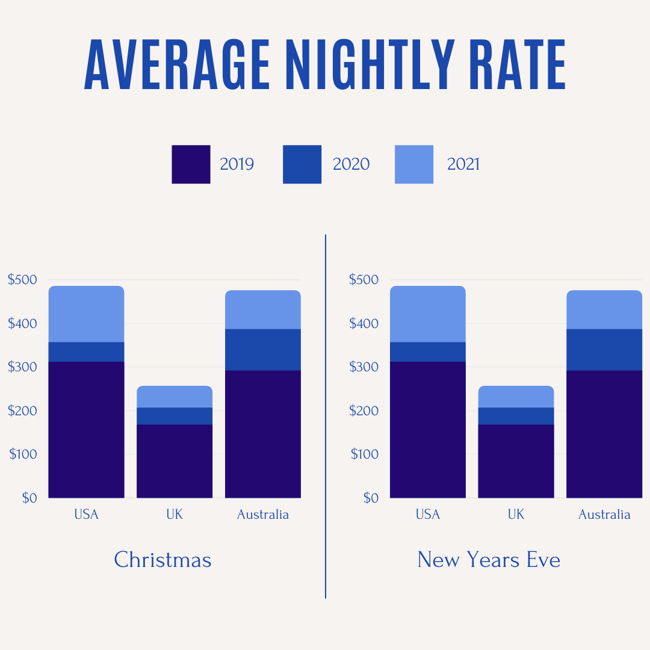 With average nightly rates at a recent high, professional managers can capitalize on this booking window and attract new, in-house, and repeat guests by using innovative ways to market their services. Many professional managers have found success by increasing their google reviews and in turn improving their SEO, while others have used gap night messaging to offer up stay extensions on a property that may otherwise remain vacant.
About Guesty
Guesty is a short-term rental property management platform and marketplace that offers operational services from guest communication to payment processing. With Guesty, property managers save time so they can focus on what matters most: growing their business.
Curious how travel is anticipated to continue to play out in 2022? Check our part two of our collaboration with Guesty, What to Expect from Travelers in 2022.