Energized by the momentum from Day 1, ELEVATE resumed on Wednesday, March 10th for a jam-packed day of thought provoking and actionable sessions. Day 2 focused on best practices around property preparation, guest communication, and safety. Panelists included property managers, consultants, and executives, who engaged participants with insightful conversations, attendee polling, and even a live podcast recording! Sessions included the following:
Coping with Increased Work and Less Time
This session covered how to keep up with the extra work, and deliver detailed property care and personalized service in less time featuring Eddie Gray of Newman Dailey Resort Properties, Koryn Okey of Breezeway, and Jesse Sharpe of Park City Rental Properties.
How Guest Communication Folds into Property Operations
Session two explored how managers can start driving deeper client service through effective guest messaging with Kelsey Liversidge of Breezeway, Tyler Adams of Benchmark Vacation Rentals, and Ashley Kubiszyn of River Ridge Rentals.
Staffing Internal vs. External Field Teams
Here, panelists explored the trade-offs between working with internal employees and contracted staff, how to manage and motivate your teams, and using staff to set your company up for success. This conversation included Joe Refosco of Taylor Made Rentals, Michelle Williams of Atlantic Vacation Homes, and Jesse Karp of Kasa.
The Importance of Housekeepers To Your Brand
Jeremy Gall of Breezeway, Cliff Johnson of Rented, and Durk Johnson of Housekeeping Solution Team discussed the impact housekeepers have in delivering your brand promise, and why it's imperative to ensure they feel valued within your organization.
Implications of Vacation Rental Safety
A discussion of safety's impact on the guest experience, insurance, and regulatory landscape featuring Justin Ford of Breezeway, Darren Pettyjohn of Proper Insurance, Mike Bayer of Vacation Rental Formula, and Matt Curtis of Smart City Policy Group.
How to Boost Owner Acquisition & Retention
Property experts Brittany Blackman of Breathe Easy Rentals, Jon Eskin of Berkshire Hathaway, and Koryn Okey of Breezeway explored best practices for delivering hospitality-like owner services, that create trustworthy owner relationships, increase client retention, boost referrals, and drive more service revenue.
How to Educate & Improve Your Team's Performance
In his custom presentation, Ben Edwards of Weatherby Consulting gave a glimpse into how your team's effectiveness and productivity impacts your businesses bottom line.
Sarah and T 'The Professional Vacation Rental Manager's podcast'
A live recorded episode hosted by Tim Caffertry and Sarah Bradford featuring an overview of Elevate and interview with Breezeway CEO, Jeremy Gall.
Conclusion
The mix of session topics and their panelists created an encyclopedia of information and a day filled with information for registrants to bring into their property care and operations. Live polling results from attendees proved interesting across sessions particularly around the topic of housekeeping. In the session "Coping with Increased Work and Less Time" Breezeway moderator Koryn Okey uncovered that 92% of participants have experienced an increase in their housekeeping workload since March of 2020, with majority finding this increase to be from 25-45%. In their afternoon session, Cliff Johnson and Durk Johnson prompted the question: "Do you use the cleaning fee as a profit generator?" and discovered that 59% of attendees do, while 41% do not.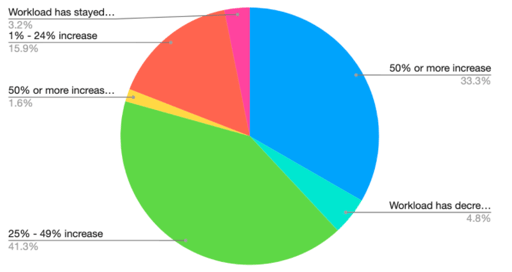 Has your housekeeping workload increased since March 2020?
Outside of housekeeping, Elevate's day two live polling found engagement around guest communication. Over 70% of attendees from the session "How Guest Communication Folds into Property Operations"proactively communicate with their guests during the stay, but only 58% do so via a texting platform.
Stepping away from the nitty gritty of operations and offering more entertainment, Tim Cafferty and Sarah Bradford ended the day by recording a live podcast with Breezeway CEO Jeremy Gall. The episode recording of 'The Professional Vacation Rental Manager's podcast' reviewed the summit as a whole, touched on where property operations stands as the industry grows even more guest-centric, and questioned Jeremy to uncover some interesting facts - spoiler alert- of all talents, Jeremy wishes he could code!
Thank you so much to those who attended our inaugural Property Operations Summit and the 40+ panelists who provided tremendous industry knowledge. We hope that ELEVATE provided insights and best practices to help operators meet the demands of clients, provide professional guest experiences, and run a successful rental management business. We look forward to seeing you for ELEVATE 2022!
Missed Day One of Elevate or looking for the session recordings? Check out our Day One Recap Blog or visit the ELEVATE landing page for more information.