After the sweeping success of Day 1, we were excited to kick off Day 2 of ELEVATE to bring attendees even more engaging sessions and actionable insights.
Starting off strong with a 1-on-1 with Vacasa
With latte in hand, we caught up with Vacasa's Senior Vice President, John Banczak, bright and early to kick off Day 2 of ELEVATE. The discussion centered around how technology's evolution has coincided with the rise in popularity of vacation rentals and therefore helped professionalize the industry. Banczak shared, "It all starts with what consumers want, and their demand for an easier experience." This demand has driven the development of technology solutions across all aspects of the industry from, smart home technology, owner reporting, and property operations. Jeremy and John agreed that despite these advances, the industry has a ways to go and will continue to improve efficiencies.
Vacation Rental Operations from Across the Pond
Back again for day two session two, Simon Lehmann of AJL Consulting, facilitated a discussion with Anthony Lee of ALTIDO, Morvan le Boulanger of Olala Homes and Lisa Byrne of Vacation Perfect about how they manage short-term rentals across European markets. The knowledge shared in this session was resourceful as these operators have mastered the challenges that come with operating internationally, including differences in consumer behavior, owner expectations, and staffing laws.
Going the Extra Mile to Make Every Guest Feel like a VIP
"Vacations are a very personal experience for the guests, and the more we treat it as such, the more the guests will appreciate it and feel like a VIP." - Max Farley, CEO of sojo. Technology and automation can help provide more services to guests, but finding a way to add a personal touch is what enhances one's experience and stay. In this session, moderator, Tim Cafferty of Outer Banks Blue, and panelists, Brittany Blackman of Breath Easy Rentals, Max Farley of sojo, and Tyler Adams of Benchmark Vacation Rentals shared their advice on balancing automation and personalization when it comes to the guest experience. When polled during this session on what most contributes to a VIP guest experience, 63% of attendees cited luxurious, clean, and safe properties, with easy communication and property amenities like pools and streaming services following.
When polled on contributes most to a VIP guest experience, attendee's said: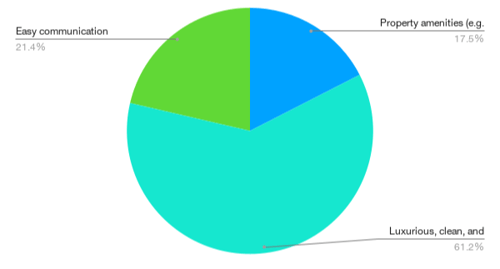 The Nexus of Communication, Service, & Growth
In this session, trailblazers Ashley Kubiszyn of River Ridge Rentals, Annie Schnaubelt of Lake Tahoe Accommodations, Stacy Wesson of Cascara Vacation Rentals, and Lance & Elaine Stitcher of Seaside Vacations provided a deep dive into the many use cases for guest communication. From gap night messaging, owner updates, and task texting, these operators have found tried and true techniques to execute SMS communications successfully in ways that benefit guests and profit their business. Reinforcing the importance of guest comms and how it can affect one's bottom line, over 75% of attendees polled said that they too communicate with guests most often throughout the stay. Check out our case studies with River Ridge Rentals and the Seaside Vacations for a deeper dive into their respective communication strategies.
When polled on how frequently they communicate with guests, attendee's said: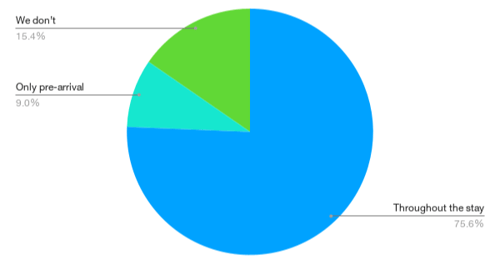 What, Why, and How of Vacation Rental Cleaning
Have you ever wondered what the difference between sanitizing and cleaning is? In this session we had arguably the most qualified individuals on the topic of vacation rental cleaning discuss how certain techniques and products can make an impactful difference at your properties and for your business. Breezeway's Koryn Okey moderated this session with panelists Michelle Williams of Atlantic Vacation Homes, Durk Johnson of Housekeeping Solutions Teams, and Sean Kemper of Kemper Industries to tackle the 'What', 'Why', and 'How' of vacation rental cleaning. For a full list of tips, check out Sean's curated By Market Cleaning Guide.
Importance of Flexible Tools that Mold to Your Business
In true Matt Landau fashion, the industry influencer started off his panel with a cliffhanger: "Today we're going to talk about how to build the ultimate technology stack… or are we?" Selecting software tools that align with your business is critical to success, but it's crucial to know when you need more tech or whether you need to simplify. Jed Stevens of Koloa Kai and Ron Bruener of Royal Destinations both shared the sentiment that "You want to build your tech stack for what you'll need in the next several years so that it will suit you as you grow, not just as you are today. You need tech you're signing up with to continue to grow with you and keep up with the industry."
How to Win & Influence Owners
So much focus and attention in the vacation rental industry is placed on guests (and rightfully so) -- but what about the owner's experience? That's why we brought in Wil Slickers of Hospitality.FM to pick the brains of industry experts, Shelia McCracken of Taylor-Made, Dru Brown of Island Time Hilton Head, and Deb Furlong of Beach Getaways. In this panel, they discuss all-things owners, including best practices for both owner acquisition and retention, and how you can curate lifelong owner relationships that help elevate your brand and your service revenue. Spotlighting where the industry sits on this topic, when polled on how frequently they communicate with homeowners, attendees reported: 64% monthly, 26% quarterly, and 8% annually.
When polled on how frequently they communicate with homeowners, attendee's said: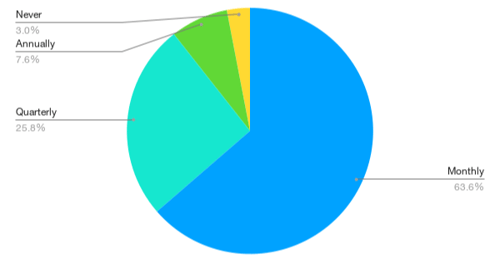 1-on-1 with Airbnb
To wrap up two full days of amazing sessions, tools, and takeaways, Jeremy Gall, Breezeway's Founder & CEO, sat down with Airbnb's Julia Herrington to take a step back and look at the vacation rental industry as a whole. Their conversation reviewed how the vacation rental industry can maintain the rapid growth it's seen as a result of the pandemic through innovation and staying ahead of the curve by continuing to focus on quality and professionalism.
Weren't able to join us live? You can watch all of the full session recordings here, and be sure to check out our ELEVATE Day One recap blog.