As travel resumes across several markets, professional vacation rental operators remain dedicated to the safety and health of their staff, guests, owners, properties and communities. Hospitality providers continue to look to leading authorities for guidance on how to best maintain rigorous protocols and ensure the highest level of cleanliness and safety at each property.
One of those leading authorities is The Vacation Rental Management Association (VRMA), which released thorough and flexible recommendations based on guidance from the greater scientific and medical communities. "The goal of our SafeHome program is to give professional property managers the tools and information they need in order to pivot their existing operations to handle COVID-19-era conditions," said Michelle Williams, Director of VRMA. "As vacation rental companies start to re-open across the U.S., having clean and consistent operational guidelines for our industry is essential to working with states and localities on ensuring safety and reducing risk."
VRMA isn't the only entity to offer a prescriptive program for preparing vacation rentals in travel's new climate. Vacasa, one of the largest vacation rental management operators, helped set the tone for the industry by releasing guidance for its 25,000 properties across 18 countries. "From the onset of the pandemic, the health and safety of our guests, homeowners and employees has been our top priority," says Bob Milne, COO. "Our professional team of housekeepers have serviced and cleaned homes with a set of consistently high standards since we opened our doors in 2009. To augment our existing procedures, in May, we launched Vacasa Premium Clean, a new program that meets or exceeds all currently published CDC recommendations and follows VRMA's SafeHome guidance."
As different associations and brands refine and adjust their guidelines on how to prepare property for travelers, it can be difficult for operators to know which programs and practices to follow. We've condensed versions of standards offered by VRMA/VRHP, Airbnb, Vrbo, and Vacasa, and sprinkled in guidance from AHLA and large hotel chains. This comparison makes it easier for operators to digest the different guidelines offered, and to review and customize their existing operating standards accordingly.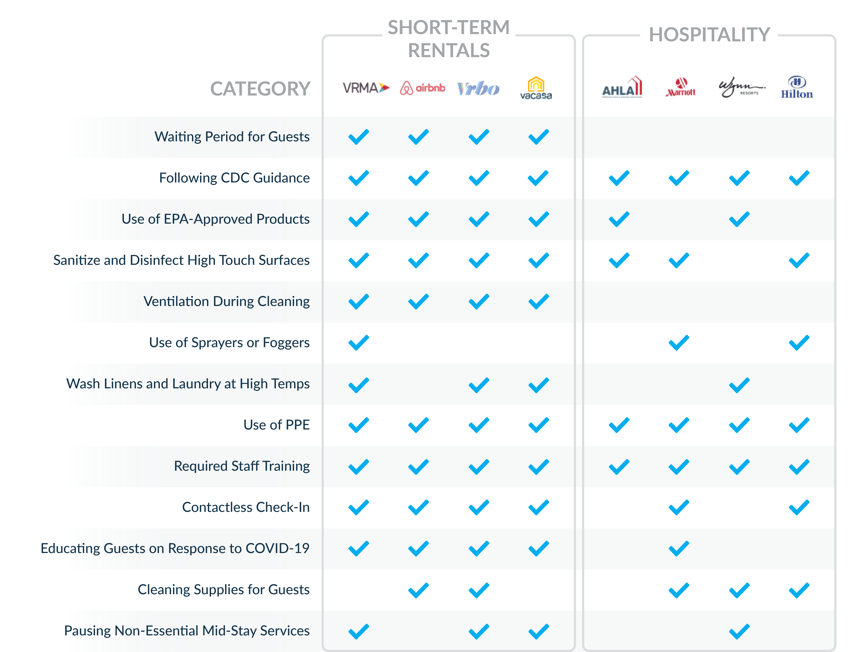 Waiting Period
Implementing a waiting period between stays has been a hot topic for professional vacation rental managers; 42% of vacation rental managers that participated in Breezeway's industry-wide property operations and cleaning survey indicated that they plan on incorporating a waiting period between stays. The most common reasons for implementing a waiting period were to give housekeepers and staff more time to complete enhanced cleaning procedures, ensure safety, and adhere to local regulation and guidance from leading authorities.
VRMA/VRHP:
Waiting 24 hours between the last guest exit and the next entry is a reasonable timeframe. For those not able to wait 24 hours, waiting at least 3 hours (for the majority of airborne droplets to settle) is also a safe course of action. Staff should follow all best practices as it relates to PPE (e.g. masks, disposable gloves, splash goggles) before entering each property and even after observing a waiting period.
Airbnb:
Geared for hosts who may not have the necessary resources and products to commit to enhanced protocols, Airbnb's 'Booking Buffer Program' uses a tool to automatically block reservations with a 72-hour wait in between stays. For those that commit to Airbnb's cleaning protocol, Airbnb recommends holding a 24-hour wait in between stays.
Vrbo:
Managers may want to reconsider scheduling back-to-back stays. If management chooses not to leave the property vacant for a full 24 hours before a clean is done, housekeepers should wait three hours before entering a property after each guest leaves.
Vacasa:
Guest waiting periods have been implemented in standard protocol. Early check-in and late check-out are no longer available, and checkouts have been changed to 10 a.m. to allow for extra cleaning time. For areas where 'rest periods' are required, time is automatically blocked between reservations, preventing last minute bookings that would impact cleaning time.
AHLA:
No guidance on waiting periods before a hotel room is occupied between normal guest stays. If there is a presumptive case of COVID-19, the affected guest room should be taken out of service until cleaned and disinfected with EPA-approved products, and in accordance with CDC guidelines.
Marriott & Wynn:
No guidance on waiting periods for a hotel room between normal guest stays. Both Marriott and Wynn hotels will apply an indefinite waiting period and room recovery process for rooms where a prior guest has a presumptive case of COVID-19.
Hilton:
No guidance on waiting periods on a hotel room in between normal guest stays. For rooms that were occupied by medical staff, housekeepers should wait three full days before entering the premises.
Breezeway's Take:
Professional operators with existing internal housekeeping protocols and quality assurance standards review their procedures and ensure they are following WHO and CDC guidelines to effectively clean and disinfect homes prior to the next guest's arrival. Take extra precaution and the necessary time between stays to comply with these guidelines, your enhanced cleaning processes, and workforce safety. Remove homes from service if there is a presumptive case of COVID-19 or other safety issue. Another common reason for waiting periods is to lower the likelihood of active bacteria on high-touch surfaces. One often cited research article from the New England Journal of Medicine reported that virus droplets remain active up to three hours in the air, four hours on copper surfaces, 24 hours on cardboard, and 48 - 72 hours on plastic and stainless steel. The CDC has recently clarified its guidance on the transfer via surfaces, noting COVID-19 can 'possibly' be spread on surfaces and objects though it is mainly transmitted person-to-person.
Cleanliness & Sanitation
Following the COVID-19 pandemic, 66% of vacation rental property managers feel that cleanliness and safety will be the most important guest consideration at booking (ahead of location, price, amenities, and services). In fact, 99% of the professional rental operators Breezeway surveyed plan on making some sort of change to their property care programs, even if this is just adding more verification of the work completed. But figuring out exactly how to upgrade cleaning and operation protocols to meet higher standards is the question on everyone's mind. So which solutions – from updating housekeeping checklists and requirements to using disinfectant sprayers and foggers – are recommended by the leading vacation rental and hotel associations and operators?
VRMA/VRHP:
Managers should follow EPA guidelines for approved products and should wear masks, gloves and splash goggles (in some cases) when at the property. Extra cleaning time should be added to turnover timeframes, and all major surfaces and high-touch areas should be cleaned prior to being disinfected. Be sure to allow enough "dwell time" for disinfectants to sit on surfaces to kill viruses and microbes. For soft surfaces, use a pressurized pump sprayer to distribute sanitizing product.
All linens and bedding should be professionally cleaned at the correct temperature with correct chemical chemistry, however if that is not possible, allow extra time for washing and drying on the highest setting for an extended period of time. Be careful not to shake linens, which could result in dispersing viral particles into the air. Gloves should be changed/discarded, and hands should be washed after handling dirty linens and before touching clean linens.
Airbnb:
The cleaning protocol is based on CDC guidance, as well as insights from sanitization experts. Airbnb's 5-step cleaning process (Prepare, Clean, Sanitize, Check, Reset) includes using EPA-registered sanitizers and disinfectants, wearing appropriate PPE at all times (e.g. disposable gloves, aprons/gowns, masks/facial coverings etc.), following CDC recommendations to ventilate the property prior to cleaning, cleaning all surfaces prior to sanitizing, washing linens at the highest heat recommended by each manufacturer, and sanitizing high-touch surfaces (allowing disinfectant to stand for the recommended amount of time, and letting surfaces airdry). Post cleaning, Airbnb recommends verification of cleaning via room-by-room guidelines and sanitation of all cleaning tools used to avoid cross-contamination.
Vrbo:
Recommends that cleaning equipment be cleaned and disinfected before and after each use. Surfaces should first be cleaned with water and detergent for 3-5 minutes, and then rinsed, dried and wiped down. Surfaces should then be disinfected using EPA-registered products following the manufacturer's instructions. Give extra focus to high-touch areas, and clean and dry all linens at high temperatures.
Vacasa:
After the home is cleaned (using standard cleaning products), both hard and soft surfaces will be treated with hospital-grade EPA-approved disinfectants. Vacasa will focus on sanitizing high-touch areas, and staff will keep windows open during cleans. Linens will be washed at high temperatures. Housekeeping staff are expected to safely change gloves between cleaning tasks and must use a different mask for each unit.
AHLA:
Follow CDC guidelines with frequent handwashing and use of hand sanitizer. Frequently clean and disinfect high-touch surfaces with EPA-approved disinfectants. Wash linens, towels, and laundry in accordance with CDC guidelines. Avoid shaking dirty linens, and bag them in the guest room to avoid contact during transport to the laundry facility.
Marriott:
Rooms are thoroughly treated and cleaned using electrostatic sprayers with hospital-grade disinfectants after guests depart and before the next guest arrives. Marriott will increase the frequency of cleaning public spaces and high-touch areas.
Wynn:
All linen laundry will be changed daily in each guest's room using single-use sealed bags. Lines will be washed at a high temperature and in accordance with CDC guidelines.
Hilton:
Extra disinfection and sanitization of high-touch surfaces using electrostatic sprayers and ultraviolet light. Official room seal will be used for rooms that have not been accessed after a deep cleaning.
Breezeway's Take:
The guidance across the industry is consistent – cleaning is critical and requires detailed attention. Comprehensive cleaning protocols between each stay that adhere to guidance issued by the CDC, WHO, and state/local regulations (including all staff wearing PPE) is the baseline standard that all hospitality providers should follow. Breezeway advises that operators follow EPA recommendations for approved disinfecting products and solutions, paying particular attention to EPA guidance on time needed for effective application of disinfectants. Furthermore, Breezeway recommends cleaning all linens, towels and laundry at a commercial-grade laundry facility and in accordance with CDC guidelines.
Workforce Safety & Staff Management
Vacation rental and hospitality providers have a responsibility to keep their employees and contractors healthy and safe, particularly now as we return to work amidst COVID-19. There are simple and effective precautionary steps that rental operators can follow. Here are the measures leading associations and operators are taking to educate and protect their staff.
VRMA/VRHP:
All staff (housekeepers, inspectors, maintenance technicians, etc.) should complete the OSHA Hazard Communication Program, including training in cleaning techniques, security, and usage/disposal of PPE. Gloves should be changed between properties as well as in-property tasks (e.g. removing dirty linens). If multiple staff members are simultaneously at a property, they should adhere to social distancing guidelines. All field staff should continue proper hand hygiene throughout the day (following CDC guidelines), while avoiding touching eyes, nose, or mouth with unwashed hands. Be sure to triage maintenance issues, and refrain from sending staff into properties mid-stay for non-urgent issues.
Airbnb:
Cleaners should wear appropriate PPE while inside a property. It is also recommended to open doors and windows to ventilate the property before cleaning begins.
Vrbo:
PPE should be provided for staff (masks, gloves, shoe covers, and reusable eye protection), as well as training on proper use/disposal. Cleaning staff should also be trained on how to use cleaning, disinfecting, and chemical products. Staff should be encouraged to avoid touching their face as much as possible, and practice hand hygiene.
Vacasa:
PPE will be provided to staff (including gloves and masks). Only one staff member is allowed in a property at a time and social distancing is otherwise required at all times. Housekeeping staff will be required to complete in person and online training on proper cleaning procedures. Staff are encouraged to avoid touching their face, and practice regular hand hygiene using soap and water or hand sanitizer. Housekeeping and maintenance staff are asked to avoid entering occupied properties.
AHLA:
All employees should receive training on COVID-19 safety, facility sanitation, and PPE use/disposal. Staff should have regular access to hand sanitizer, and shared equipment will be disinfected. Employees should adhere to social distancing guidelines by using every other workstation and will utilize technology to limit interaction with guests. Housekeeping staff should wait at least 15 minutes after guest departure to enter the room to begin cleaning.
Marriott:
Marriott is starting an 'international communications hub' to share latest news and information for staff to be best prepared to respond to COVID-19. Employees will have access to training, PPE, hand sanitizer, and partitions at workstations.
Wynn:
Upon entrance, employees will have their temperature checked with a thermal camera. Employees will have access to PPE and hand sanitizer and will be expected to adhere to social distancing protocols. Employees will be responsible for frequent hand washing (every 60 minutes).
Hilton:
Staff will be provided with PPE and extra training.
Breezeway's Take:
PPE is the common theme here. Breezeway advises operators to provide comprehensive OSHA training to all employees and ensure the same for vendors and service providers. This includes detailed cleanliness and disinfection protocols, staff and guest safety procedures, and watching for regular updates to CDC and state guidelines. Pay particular attention to the safety guidelines for EPA approved disinfectant and sanitizers and consider the health implications for staff in the application of these products in a residential context.
Guest Safety & Communication
Based on Breezeway's industry-wide property operations survey, 95% of professional vacation rental operators plan on implementing changes to help guests feel more confident in the safety of their rentals. This includes communicating with guests before arrival and throughout the stay on safety and health protocols. Many are providing guests with disinfectant and additional cleaning products for use at the property after check-in, and including a physical description/cleaning card at the property that details housekeeping procedures. Below is what we've seen the industry recommend thus far.
VRMA/VRHP:
Managers should create a resource center on their website for guests to see how you're handling COVID-19 (include this information on property listings). Managers can also add signage to the property detailing when it was cleaned, and consider communicating this information with incoming guests prior to their arrival. Managers should also consider offering guests remote check-in 18-24 hours after the property was cleaned and inspected. Managers should communicate that some mid-stay requests might not be fulfilled, and in the event of an essential maintenance issue, guests should leave the property while staff members are present. Extra throw blankets and decorative pillows should be removed from properties for the time being.
Airbnb:
Guests should be able to identify whether hosts have committed to Airbnb's cleaning protocol during the booking process. Managers should leave cleaning supplies for guests like hand sanitizer, paper towels, disposable gloves, disinfectant spray or wipes, and hand soap.
Vrbo:
Guests should be provided with sanitizer and antibacterial soap, cleaning/disinfecting products, and PPE at each property. Managers and owners should help maintain social distancing protocol during check-in/check-out though a contactless option and limit face-to-face interactions when possible. Guests should be encouraged to minimize non-essential interactions at the property (maintenance requests, non-guests). Listings on Vrbo will reflect new cleaning protocols under structured amenities, property description, property information booklet, and other signage.
Vacasa:
Non-essential maintenance will be addressed after the stay is over. If there is an essential maintenance issue, guests will need to either leave the property, or go in a different room while staff members are present. Vacasa communicates its Premium Clean procedures and local regulations (quarantine requirements and travel restrictions as appropriate) to each guest before their stay.
AHLA:
Mid-stay services should be modified to ensure guest safety. Room service should be transitioned to contactless, buffets limited, guests offered 'grab & go' prepackaged food items, and housekeeping discouraged from entering a guest room during a stay (unless requested to). Guests will need to adhere to social distancing protocols, and areas should be clearly marked to help keep a 6-foot distance.
Marriott:
Guests will have access to hand sanitizer and disinfecting wipes throughout their stay and will be reminded to adhere to social distancing protocol through signage. Guests will be able check-in, access their rooms, and order contactless room service through their mobile devices.
Wynn:
Guests will be greeted by a security officer for a temperature reading with a thermal camera. Once screening is completed, they will receive an amenity bag with a mask, hand sanitizer, a COVID-19 awareness card, and disinfecting wipes. Guests will have access to hand sanitizer throughout the property and will be advised to practice social distancing. Valet, shoeshine service, and self-serve ice machines will be suspended, but guests will be able to order contactless room service.
Hilton:
Guests will have digital room keys and will be able to check-in and check-out using the mobile app. Disinfecting stations will be available, and all reusable collateral will be removed from guests' rooms and transitioned to a digital platform.
Breezeway's Take:
Breezeway recommends that vacation rental operators communicate with guests before arrival and throughout the stay regarding safety and health protocols. This includes sharing steps to help ensure guest safety like remote check-in/check-out procedures, reminders to practice responsible social distancing while outside the rental property, the location of healthcare facilities, and information on local curfews, restrictions, and closures.
Conclusion
Preparing safe and high-quality vacation rental experiences requires professional attention that extends beyond cleaning and sanitation to quality assurance, smart communication, concierge service, maintenance and reporting. When reviewing and creating operations standards, Breezeway recommends that vacation rental operators think about comprehensive procedures that ensure a professional level of hospitality for the entire guest experience. Doing so requires not only customizing operating standards for your business, but importantly monitoring ongoing compliance with cleanliness and safety standards. This includes inspections and review of property preparation and care to ensure compliance with procedures, performing routine preventative maintenance and actively managing the overall health, safety and quality of each property.
Lastly, operators should consider an internal system of record to track and verify compliance with cleaning protocols, safety and property care. This provides the ability to monitor staff and service provider interactions with each property and guest and share detailed records externally as necessary.
Want to see how leading operators are upgrading property programs? We surveyed hundreds of vacation rental managers and produced a report here.