Every stay is unique. Every home is unique. Every guest is unique. But what sets your home apart from the competition? A responsive host. Guests are filled with questions before they check-in. For a good stay to become great, your guests need the confidence to feel at home at your property.
Our Welcome Book takes the guesswork out of the guest experience and is crucial to responsive hosting.
What sets our Welcome Book apart?
Property Guidebooks are not a novel idea. You see them in homes, usually in paper form, directing guests to the wifi password, departure instructions, and local recommendations. Digital Guidebooks serve the modern traveler who is on the go and needs information at their fingertips. However, our approach to guidebooks is different. We view our Welcome Book as another way to automate your operations. Guide works in tandem with our messaging platform for a streamlined approach to tackling guest needs.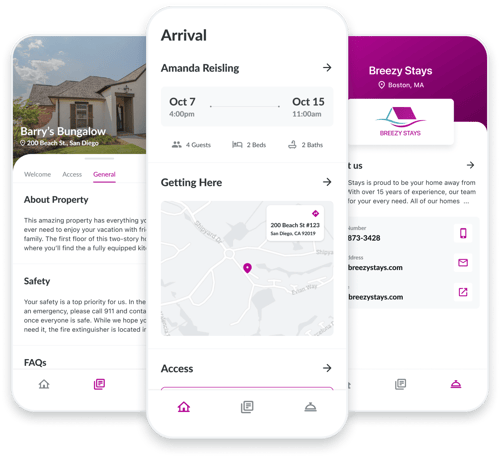 Breezeway Guide is personal, dynamic, fully integrated, easily accessible, and completely digital.
Personal 💌 You can customize your Guidebook with property photos, colors, and company branding, setting the tone for a professional first impression.
Dynamic ⚡ Guide changes with your guest's point of stay. Check-in information is replaced by mid-stay and departure instructions automatically.
Fully integrated 🧩 Guide ties your operations together and integrates with the tools you already use. Need something? Your guests can report issues right from the Guide.
Easily accessible 👆No app needed! The Welcome Book is delivered by authenticated URL, so you can easily share your guide via email or SMS.
Completely digital 📲 because paper manuals and bulky tablets are a thing of the past.
Travel Advantage Network was one of the first clients to implement Guide. Shawntel Dairsaw explains, "Guide was easy to set up, it's a natural outgrowth of the text messages the guests already receive, and guests love the expanded property information available on their phone. " She went on to comment that "TAN values an amazing guest experience, and many times, a great experience simply means getting guests the information they need when they need it. The Breezeway Guide does a fantastic job at delivering the guest info in a way that is easy for the guest to use."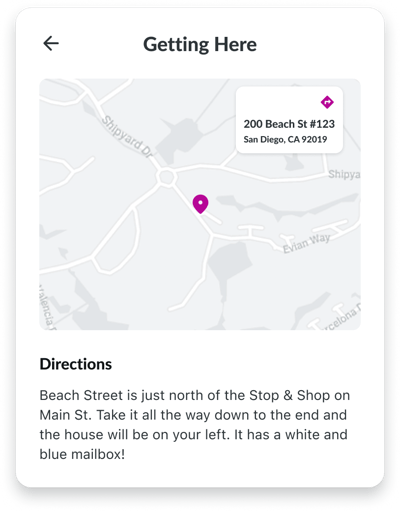 Guide is an efficiency driver!
There is a better way to interact with guests before they arrive. We created Breezeway Guide to do just that. Our Welcome book is another way to engage with your guests and elevate your brand days before they enter the property.
Guide won't just enhance your guest experience but will make your job as a host more manageable. You'll spend less time communicating and more time where it matters to your business. Guide gives you the flexibility and your guests the confidence to drive repeat bookings and earn five-star reviews.
When done right, your guests shouldn't have to ask questions about your property again. It's a win-win for everyone!
"Our ultimate priority has always been to help managers elevate the experience at every property. Guide helps guests get the most from their rental experience and know what to expect even before arriving," said Breezeway's Founder and CEO, Jeremy Gall. "Guide helps to set the scene, building peace-of-mind and excitement for guests before they arrive, and continuing to provide all necessary information on-demand throughout the stay, for a truly enhanced experience."
Set up your Guide in minutes → What are you waiting for? Get a Personalized Guide Demo here.