Your guests are willing to spend more on sustainably stocked properties. VRBO's recent research shows that 59% of travelers (nearly 3 in 5) are willing to increase spending to make a trip more sustainable. Are you ready to capture that demand?
A great place to begin shifting toward more eco-conscious operations is with your guest amenity program. Travelers expect properties to be fully stocked with fresh travel essentials, but the single-use nature of those amenities creates unnecessary waste.
It doesn't have to be complicated to make a big impact. We've compiled three easy ways you can provide more eco-conscious guest amenities (plus some bonus tips on how to market the sustainable choices you're making!). We've also made it easy on the operational side. Breezeway's integration with sojo helps automate the ordering, storing, and coordinating of guest supplies, saving you time and ensuring your properties are always well-stocked.
1) Go for biodegradable packaging:
sojo's brand new ECO package is produced using wheat straw as a plastic alternative. This decomposable material allows you to offer the single-use amenities that so many guests love without the waste. Not only are the amenities themselves eco-friendly, but they come packaged up in a reusable hemp bag that guests get to take home.
2) Recycle half-used amenities:
Love the amenities you're using today, but still want to reduce your environmental impact? Give your amenities a second life by recycling them with sojo Recycles in partnership with Clean the World. All of your used amenities are sanitized, reshaped, and repackaged to be distributed to communities in need around the world.
3) Switch to refillable bottles:
Offer larger bottles (typically around 10oz) on the counter with refill pouches under the sink. All your housekeepers have to do is top them off on every turn day. sojo's REFILL line is launching later this year, giving you the ability to auto-ship those refill pouches, so you never run low. Plus, they'll custom-brand your pump bottles too!
BONUS TIP: Make sure you share and market your sustainability initiatives. Not only will you attract more guests (remember that more than half of travelers are looking for eco-conscious lodging!), but you'll also create an experience that your guests, your owners, and your team can be proud of (resulting in repeat and referral booking opportunities).
Here are a few ideas to get you started:
- Feature your eco-friendly amenities in your listing photos and description.
- Include a card in the home near your amenities that talks about the sustainable benefits of the amenities they're using.
- Weave this into your owner acquisition and retention strategies.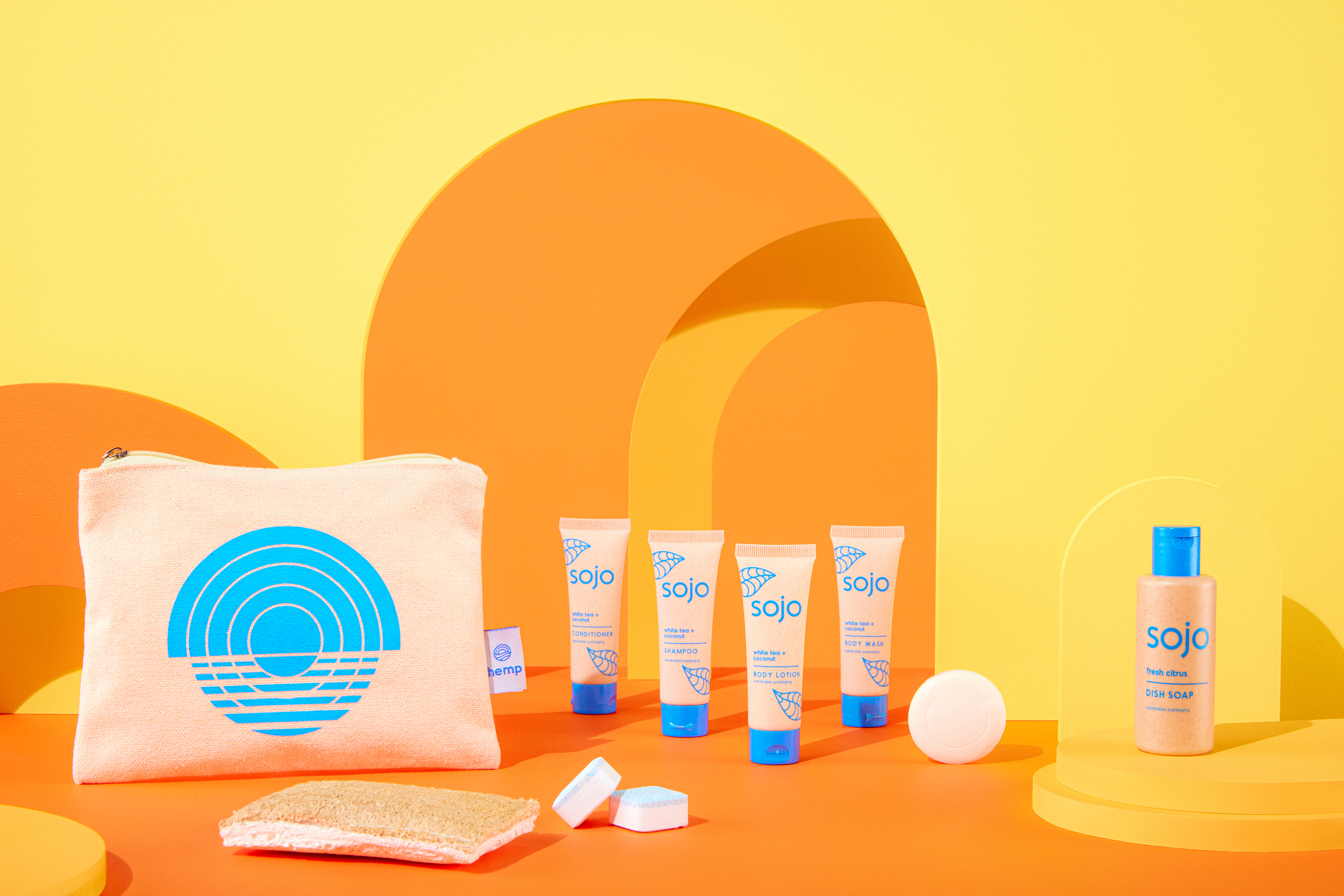 About the author
Marcia Conwill is a Growth Marketing Specialist at sojo. sojo automates the delivery of bathroom and kitchen amenities, pantry items, and more. Just connect your Breezeway calendar, choose the products you want in every property, and that's it! sojo ships everything your housekeepers need for every turn day - all in one kit. Brighter turn days ahead!