No matter if you're a newbie or seasoned operator, it's helpful to understand the key elements to create a profitable short-term rental (STR). We decided to ask Co-Host Market, a platform that helps short-term rental owners find qualified and experienced cohosts and property managers worldwide, for some insightful knowledge on running a STR. Read their tips on attracting more guests with your listing while also reducing headaches.

From your perspective, what defines a successful short-term rental?
Everyone defines success differently, but it's important to set goals to measure progress along the way. Some operators might be managing their rental as a side-hustle, but for others it might be a full-time job with multiple listings. The main focus is often generating income (whether to pay off your monthly mortgage or earn enough to purchase another rental property), setting goals and milestones along the way will keep you on track with your short-term rental venture.
Do you think all short-term rental owners can run a profitable listing using the same operational structure?
No, because everyone has different overhead costs to consider. If we could all use one formula to generate a high return, it would be far too easy. While we believe anyone can manage a short-term rental, it does require excellent communication skills, time-management, and most importantly, hospitality. Before starting your STR, it's a good idea to visualize the tools you need in your tool belt; whether it be technology, cleaning staff, or something else.
What are the most important tools that help short-term rental operators thrive?
There are so many handy tools out there today, such as guest texting, task management, dynamic pricing, and much more. The short-term market industry has changed drastically in the past decade, and it's important to keep ahead of the crowd by implementing essential software systems. You'll run your business more efficiently, increase profits, and provide a better experience for your guests.
Should you be aware of what your competitors are doing in your particular area?
Many hosts are eager to launch their short-term rental without scoping out the competition. But doing so has a lot of benefits, including getting a better idea of the nightly rates in your area and the type of audience you can expect. For example, you might find that there is a large need for more family-friendly accommodations or that guests are coming to your area on business.
Surveying other rental properties in the area also helps identify ideas to create a more unique experience for your guests, and help differentiate your brand. For example, working with local businesses to offer packages and discounts gives you guests more options to experience the area, and helps support the community (e.g. brewery tours, kayaking excursions, cooking classes, etc.)!
Do you have any tips on how to impress a guest?
Go the extra mile for each and every guest. Personalization goes a long way, and doesn't have to cost a fortune. Whether it's a personalized welcome note, or a discount at the local cafe, providing unexpected amenities often puts a smile on a traveler's face.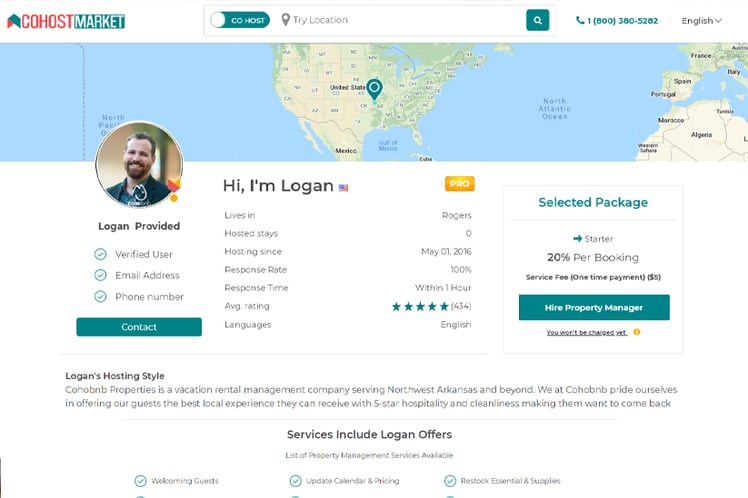 With everything you see on Co-Host Market, should short-term rental owners have a marketing strategy to differentiate themselves from the crowd?
Having a strategic marketing plan to help showcase your attractive listing can certainly boost your bookings. Proactively interacting with your target audience across several different mediums is often the most beneficial approach. More and more hosts are joining Facebook, Instagram, and YouTube to show potential guests what they have to offer (create a #hashtag and have your guests post comments, reviews, and photos). Photos don't just have to be interior shots -- operators can promote local attractions and restaurants and market the many reasons to visit your destination.
What advantages do homeowners have when using Co-Host Market platform?
Whether you have one or 15+ listings, the day-to-day tasks of running a rental business can many obstacles and challenges. A cohost or property manager can help lessen the burden, and give you more time to focus on expanding your business or giving freedom elsewhere. For example, communicating with guests has become a vital and time consuming area of operations. You'd hate to keep guests waiting on any inquiries, which is exactly where a cohost can be a big help. Cohosts can help with specific cleaning initiatives, photography, listing creation, and much more!
About Co-Host Market:
Co-Host Market is a marketplace solution for homeowners and property managers. Since Airbnb took away its co-host market feature, it's been more difficult for owners to find qualified property managers and vice versa. Co-Host's platform makes it easy for property managers to connect with owners that don't want the hassle of managing their own listings full-time.
For more information about CoHost market, visit their website and check out Part I of our Interview.