Managing a Growing Network of Contractors
Through his prior experience as a vacation rental host, Well & Good's founder Jonathan Wicks realized that most managers relished in the front-of-house marketing of their business. Creating memorable experiences for guests requires a lot of behind-the-scenes operations work, though, and Jonathan realized that this area caused most of the challenges. Providing consistent experiences to meet guest expectations means coordinating staff, and while there isn't a one-size-fits-all approach, most managers balance the pros & cons of using internal vs. external field staff for their property care.
"We started Well & Good because there had not been anything within our space to standardize the labor side of the industry," said Jonathan Wicks, Founder of Well & Good. "There are technology companies, like Breezeway, that help automate all the moving pieces of serving properties, but when it comes to who actually hires the cleaners, trains them, and coordinates with them, that's us. We want to set them up for success, so we felt like it was time for the people that do the hardest work in our industry to be recognized, respected, and rewarded."
That's why both property managers and hosts alike use Well & Good to execute every aspect of the turnover process. Well & Good manages their workflows with a growing network of contractors by heavily leaning on Breezeway's property operations platform. Jonathan added, "One of our core values is that we utilize our tech to help our people, so all of our contractors are on Breezeway and use Breezeway to complete every single one of their tasks." This allows hosts to focus on hosting, while Well & Good and Breezeway take care of all the behind-the-scenes work that guests expect, but don't necessarily see.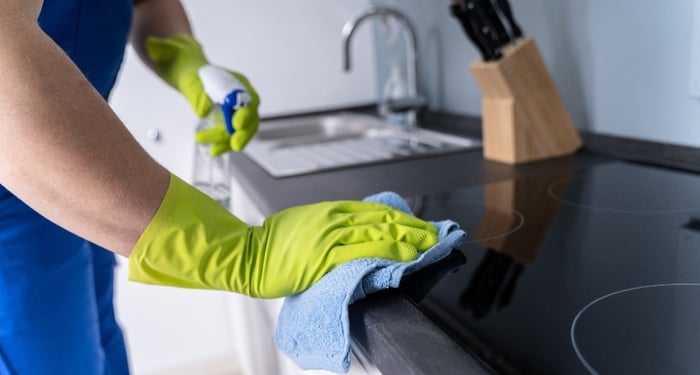 Achieving Quality Services at Scale
Well & Good is currently servicing 4 markets, with a goal to expand to 15 by the end of 2023. The company's mission is simple: scale nationally and implement higher property care standards for the vacation rental industry. In order to achieve this goal, Jonathan needed more confidence in the company's technology partner. Prior to adopting Breezeway, Well & Good created each work order manually, which took one person on their team about a full hour per day. With their large expansion goals, Well & Good knew that changing its technology backbone was a necessary step to continue to scale and elevate its product.
"When we switched to Breezeway, creating work orders got a lot easier. The way the app works in-the-field is super smooth and so user-friendly for all of our contractors to work with. Breezeway has created the best task management system, I don't think there's even a question there."

- Jonathan Wicks, Founder of Well & Good
Breezeway helps empower their contractors to complete high-quality work with standardized workflows, customized checklists, and automated work orders specific to each property. Turnovers were such a pain point for many of Jonathan's clients that they are often amazed that Well & Good is able to deliver on their promise and execute at scale. With this in mind, they gave all clients access to Breezeway to see for themselves the detailed work going on at their properties.
Well & Good is scaling rapidly across the U.S. by continuing to grow their network of contractors and clients in key vacation rental markets. They are able to continue to scale while delivering a high level of quality standards with Breezeway saving internal teams time on work coordination and providing more visibility to clients. Breezeway and Well & Good partner perfectly together when it comes to this mission of standardizing, professionalizing, and elevating the turnover process in the vacation rental industry. With our combined approaches through both technology and human solutions, Well & Good powered by Breezeway is creating the perfect balance between automation and personalization.