Working Through PhoneTree Frustrations
Lake Tahoe Accommodations is centered around their four office locations along the lake. These offices acted as hubs where their customer service staff would sit to field incoming calls or emails from guests, and their operations staff (including housekeeping and maintenance personnel), would come to pick up their paper checklists for the day ahead.
With their deliverables physically in these locations, staff were tied to these offices to begin and end their day. General Manager, Joshua Priou remembers, "before Breezeway, we were physically printing cleaning worksheets that our cleaners would have to come pick from the office daily, then manually fill them out at the properties, and finally bring them back to the office before we knew the property was ready for check-in." While this system allowed for a very personal and hands on approach with staff, it was not time-efficient or conducive to in-field communication and last-minute changes.
Lake Tahoe Accommodations also offers in-person check-in at their office where guests pick up their keys before heading to their property. Because of their limited visibility to property-readiness status, this reduced the flexibility they could provide to guests for early check-ins or late check-outs. To ensure all turnovers were completed before any guest arrivals, check-in time was scheduled after 4:00 PM, funneling a rush of arrivals during a limited window.
Being on the weekly rental cycle, Annie recalls, "on Fridays, or big check-in days, it was crazy with a lot more phone calls and office arrivals." With all of these inquiries happening on the same day, the PhoneTree became a disaster. During these high-volume times, guests who had simple questions, or potential customers trying to make a reservation, could get frustrated with long wait times on hold. Annie says, "we didn't have any text messaging before Breezeway, so everything was done either by a phone call or email, and email usually had a pretty low response rate, so our office phones were always ringing off the hook."
This also affected the company's operations as when guests would call to report an issue or request an additional service, managers had no way to record the task and what the guest had been promised. On the other side, they could not track if the task had been completed and if up to the guest's satisfaction.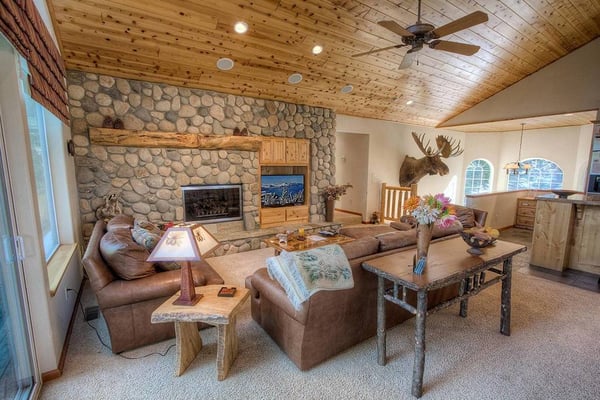 Transforming Operations
"We made a big change going from paper housekeeping checklists to fully adopting Breezeway's software. All of our staff and management quickly adjusted because it made everyone's lives so much easier." - Joshua Priou, General Manager, Lake Tahoe Accommodations
Lake Tahoe Accommodations was able to transform all of their paper checklists into digital checklists on the Breezeway app with even more customized abilities. Now Joshua can set property-specific requirements, like sweeping the deck from properties that have one, and requiring photo uploads of specific completed tasks, like cleaning the BBQ grill. This creates more accountability in the work their teams are doing and enables more communication between staff and management.
For Lake Tahoe Accommodations staff, adopting Breezeway was a huge time saver. Instead of waiting for printed checklists or phone calls from management, housekeepers can record their progress right on their phone in the Breezeway app. From there, management can track property status in real-time and are automatically notified when an inspection is complete.
"From a managerial level, Breezeway helps me oversee what's happening in the business and when we understand what the issues are, it is super easy to fix them."

- Annie Schnaubelt, Marketing Administrator, Lake Tahoe Accommodations

Improving Guest Experiences with Personalized Messaging
In addition to more advanced staff communication, Breezeway and Barefoot ultimately helped bring personalized guest communication to the forefront of Lake Tahoe Accommodations' operation. By integrating Breezeway and Barefoot's technologies, all reservation information tracked through Barefoot gets automatically pulled into Breezeway.
"We now use Breezeway's automated messaging workflows to send pre-arrival messages. We have templates all set up with information from Barefoot, so the system automatically sends the guest a personalized welcome message." - Annie Schnaubelt, Marketing Administrator, Lake Tahoe Accommodations
Their customer service team is leveraging this information to deliver an even higher-level of quality service. Staff is now automatically notified when a property is ready and can text guests right away to surprise and delight them with complimentary early check-in. They're also driving more revenue for the business with automated gap-night messaging by offering guests the option to extend their stay for a discounted nightly rate.
"Messaging has been a huge revenue driver for us. Being mostly a drive-to-market, and with people's flexible work schedules now, we've seen so many conversions with gap-night messaging and people wanting to stay another night. We've also had past guests reach out to us in our text chain from their previous stay asking if they can book again!"

- Annie Schnaubelt, Marketing Administrator, Lake Tahoe Accommodations
Since adopting and integrating new solutions, Lake Tahoe Accommodations is saying yes to more personalized service requests from guests. With the help of Breezeway and Barefoot, they now have a clear and easy way for guests to reach out and have the systems in place that can track these requests to make sure they deliver on their promise. This increase in service is reflected in their exponential growth in Google reviews, going from 30 to over 180, in the 2 years since they've deployed Breezeway messaging to send post-stay review requests.