A hub for all operations and communication
Breezeway is a centralized hub for all operations, enabling efficient tracking and coordination. Field team members utilize Breezeway's app to capture and report issues, streamlining the assignment process for maintenance. Furthermore, the availability of Spanish translation in the Breezeway app has greatly benefited Biloxi's housekeeping staff, enhancing their productivity and sense of inclusion. "My employees love Breezeway. It's easy to use and reduces unnecessary back and forth. Things don't slip through the cracks," says Jacqueline.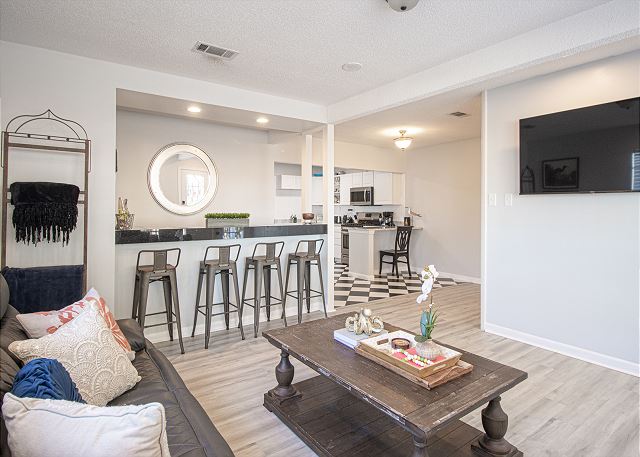 "Breezeway has saved me so much money across the board - reservations, maintenance, housekeeping, my administrative office, because it's all right there. Everything is literally streamlined into one place." - Jacqueline Wilson, President
The powerful combination of Breezeway's Messaging and Guidebook
Breezeway's messaging tool has been a "game changer" for Biloxi. With the seamless integration between Escapia and Breezeway, a new reservation instantly triggers the automated message. Jacqueline adds that it is another way to impress owners and show value. During owner stays, owners can see the 5-star guest experience firsthand.

Biloxi recently added Breezeway's modern welcome book Guide, fully integrated with messaging. They easily send the welcome book via text message. The content dynamically changes throughout the guest and can communicate directly via the Guide.

By leveraging Breezeway's Messaging and Guide features, Biloxi communicates seamlessly with guests, reducing phone calls and emails related to redundant property-related inquiries (like WIFI and parking instructions) by an incredible 60%. By freeing up time, her front desk staff can focus on channel management distribution and generating more bookings.

The combination of Breezeway's Messaging and Guidebook features has proven to be a powerful asset for Biloxi, ensuring smooth communication throughout a guest's stay. The dynamic nature of the information provided enhances the guest experience and allows Biloxi to fill gap nights and collect valuable feedback through surveys efficiently.

24/7 support with the Assist team
With the addition of Breezeway Assist, Breezeway's 24/7 team of hospitality specialists, Biloxi effectively handles guest requests after hours. Previously, they used a generic answering service to help with after-hours requests, and it offered basic support. Since switching to Assist, Jacqueline notes, "We are getting 10x out of Assist versus a general answering service. I trust Breezeway. They know the industry."

Onboarding with Breezeway Assist was seamless, as property information was readily accessible. The Assist team quickly got up to speed on Biloxi's unique set of requirements. Assist has eased the burden on her staff, and Jacqueline was able to grant her team Memorial Day off for the first time. During the high season, they plan to turn the service on 24/7. Jacqueline views the Assist team as an extension of her team.

Within the first months, on average, the Assist team has responded to guests via phone or text within 20 seconds and solved 98% of the interactions without escalating to the Biloxi team.
A partnership for the future
Breezeway has not only saved Biloxi money across various departments, including maintenance, reservations, housekeeping, and administration, but it has also streamlined their operations onto a single, user-friendly platform. The impact of Breezeway goes beyond being a mere operations system, proving to be a lifesaver for Biloxi Beach Resort Rentals.